Did He Or Didn't He? Lawmakers Undecided Over Whether Trump Actually Said 'Sh*thole'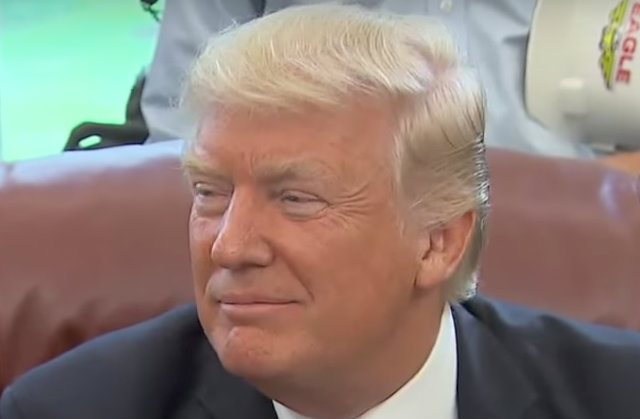 The news cycle has been absolutely dominated by reports that President Donald Trump referred to Haiti, El Salvador and African nations as "shithole countries" while questioning the need to provide protection to immigrants from those areas. But did Trump specifically say "shithole" while describing these countries during a Thursday immigration meeting? Depends on who you ask.
This morning, the president took to Twitter to issue a quasi-denial. Dancing around the issue in a series of tweets, he disputed reports that he used those specific words while copping to using "tough" language. He further noted that he said nothing derogatory about Haitians "other than" pointing out that Haiti is a "very poor and troubled country." Trump also wrote that the comment was "made up by Dems" that he said "take them out" regarding Haitians — further muddying the waters over shithole.
Following the president's tweetstorm, Sen. Dick Durbin (D-IL) refuted Trump's sort-of denial. Durbin, who attended the immigration meeting, claimed that POTUS absolutely said "shithole countries" and that he hadn't seen any inaccurate press accounts related to Trump's remarks. Furthermore, the Illinois lawmaker labeled the president's words "hate-filled" and "racist."
This afternoon, we got two very different accounts from GOP sources. In a joint statement, GOP Senators Tom Cotton and David Perdue said that they "do not recall the President saying these comments" during the meeting they attended. The two Republicans added that what Trump did do was "call out the imbalance in our current immigration system."
COTTON & PERDUE put out joint stmt: "we do not recall the President saying these comments specifically but what he did call out was the imbalance in our current immigration system…" pic.twitter.com/asINkO9t84

— Frank Thorp V (@frankthorp) January 12, 2018
Now, of course, Cotton and Perdue saying they "do not recall" is not exactly a strong rebuke of Durbin or reports of the meeting, as it leaves open the possibility that those words were said and they just didn't hear them.
On the flip side, another Republican senator claims that he was told that reports of the president's comments were "basically accurate." Speaking to the Post and Courier, Sen. Tim Scott (R-SC) said that Sen. Lindsey Graham (R-SC) confirmed to him that Trump said "shithole countries." "If that comment is accurate, the comment is incredibly disappointing," Scott added. At the time of publication, Graham had not publicly commented on the president's remarks.
Earlier today, Sen. Jeff Flake (R-AZ) tweeted out that the comments relayed to him by those in attendance were "abhorrent and repulsive." At the same time, he didn't explicitly state that Trump said "shithole countries."
The words used by the President, as related to me directly following the meeting by those in attendance, were not "tough," they were abhorrent and repulsive.

— Jeff Flake (@JeffFlake) January 12, 2018
So, what's the bottom line? The lack of full-throated denials from Trump, GOP lawmakers in attendance and the White House likely speak for themselves.
UPDATE 2:46 PM ET: Graham finally released a statement about the meeting and the president's remarks. Graham stated that he said his piece to the president following comments Trump made.
JUST IN: @LindseyGrahamSC releases statement on immigration meeting: "Following comments by the president, I said my piece directly to him." https://t.co/DtvLfPNVTH pic.twitter.com/1ltK191X5b

— ABC News (@ABC) January 12, 2018
[image via screengrab]
—
Follow Justin Baragona on Twitter: @justinbaragona
Have a tip we should know? tips@mediaite.com