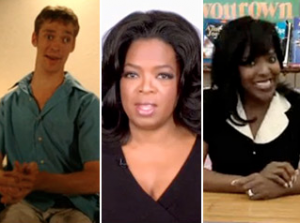 If you havent been reading our sister site (more like a nerdy younger brother) Geekosystem lately, you've been missing one of the more interesting stories going on lately in the worlds of television and the Internet. A couple of weeks ago, Oprah Winfrey started a contest to give one of her viewers their very own show on her new network. One of the contestants, a hilarious young man with cerebral palsy named Zach Anner, was heralded by the influential websites 4chan and Reddit (as well as celebrities like John Mayer) and rose to a seemingly insurmountable lead…until it was surmounted. However, Geekosystem writer Jamie Block used some great investigative reporting to find seeming proof that someone (quite possibly directly from Team Oprah) had rigged the contest to knock Anner out of the top spot!
It all started as one of those heartwarming stories we just don't get enough. Anner's wonderful video caught the eyes of the Internet message boards who quickly began linking it around. Any why wouldn't they? Just watch the video below in which Anner describes his prospective show, a travel program in which no mountain is too high and no Atlantis is "too underwater or fictional." You can read a detailed timeline of the first half of this amazing story as well as watch some great videos Anner made in this extremely well-written (by me) post on Geekosystem here.
Then everything turned sour. A woman named Dr. Phyllis shot up the ranks and passed Anner in the number one spot all in the matter of a few hours. Anner's Internet fans began to smell a rat and the grumblings of a fix shot through message boards everywhere. Then a Reddit user noticed that the source code for the "vote" button on Dr. Phyllis' page was somehow different than all of the others. This inspired the Geekosystem team to take action. Block watched the site for the next few hours and noticed, at some point, that the change in source codes seemed to vanish. He then compiled the information he gathered and came up with this nearly irrefutable proof that something untoward was going on:
Doctor Phyllis: ~1923/min
Zach Arren: ~977/min
Kornelius: ~587/min
Jacqueline: ~224/min
Jasbina: ~167/min
Maria: ~137/min
Cheryl: ~29/min
David: ~12/min
Shawn: ~2/min
The chart above are the numbers of votes per minute that each of the top contestants were receiving while the fixed coding was up. Now check out the numbers once everything was back to normal:
Doctor Phyllis: ~3/min
Zach Arren: ~753/min
Kornelius: ~648/min
Jacqueline: ~255/min
Jasbina: ~334/min
Maria: ~176/min
Cheryl: ~80/min
David: ~20/min
Shawn: ~4/min
Yep, Dr. Phyllis went down nearly 2000 votes. You don't need to be a statistician to see that something funky was going on.
Geekosystem's story and Block's charts have now been picked up by both Entertainment Weekly and Fox News so it seems Oprah may be forced to comment at some point. Whether she does or doesn't, this whole mess has just turned an inspirational story into something sad; sad for Anner who had his victory stolen from him, sad for Dr. Phyllis who has become an Internet pariah just because (presumably) some OWN producer thought she fit a "type" better, and sad for Oprah's image which this contest once seemed to fit so well.
We may never find out who rigged the contest but the moral is clear: you should never try to pull one over on Internet geeks…by using the Internet.
Make sure you check out Block's great post where he goes into much more detail about the hows and whys of the rigged contest. Really fascinating stuff.
(photo via EW)
Have a tip we should know? tips@mediaite.com