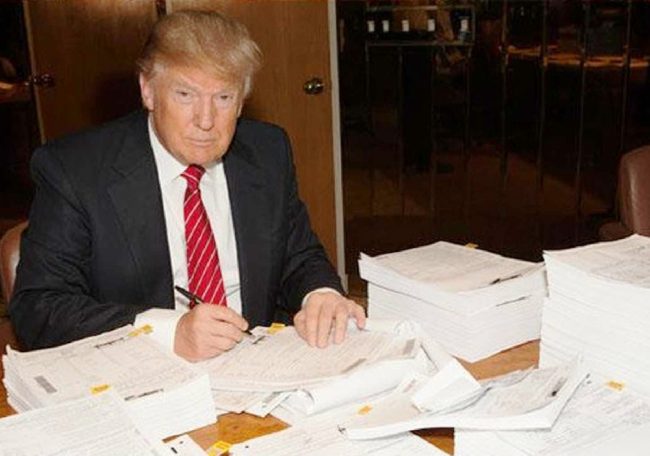 Throughout the presidential campaign and since being elected, President Donald Trump has been defiant when it comes to his income tax returns, going against the precedent set by his predecessors and refusing to publicly release them. Additionally, the president has stated that a "red line" would be crossed if Special Counsel Robert Mueller began digging into his and his family's finances as part of his investigation. (Something that now appears to be happening.)
Now, obviously, there's quite a bit of speculation about why POTUS is so protective and secretive about his financial records, much of it related to possible financial ties Trump may have with Russia. However, according to two tax attorneys, one of the reasons Trump doesn't want anyone snooping in his records may be that he committed tax fraud.
In an article published in the Washington Post, lawyers David Herzig and Bridget Crawford suggested that Trump's April 2016 sale of two Manhattan condos to his son Eric ran afoul of tax laws because Trump should have paid a gift tax at the time.
Last spring, Eric bought the two units from his dad for $350,000 a piece. Both units are located in a building in prime Midtown location and two months prior had been listed for $790,000 and $800,000. Also, two years before, one of the condos had been sold for $690,000. As the lawyers noted, a sale of real estate to a family member at a highly discounted price would be considered a gift and would and the seller would be subject to a tax:
If a sale between a parent and child is for fair market value, it does not trigger a gift tax. But if a parent sells two expensive condominiums to his son at a highly discounted price, for example, then the parent makes a taxable gift in part. In that case, the seller must pay a gift tax of up to 40 percent. (In this case, that might have run the president somewhere in the neighborhood of $350,000.)
Based on New York City property records, Trump paid $13,000 in taxes related to the two sales, which indicates that he didn't treat the transactions as a gift and likely didn't pay those taxes. And, as the attorneys further explained, this could lead to fines or even possible jail time.
Willful failure to file a tax return, including a gift tax return, is a misdemeanor, punishable by a $25,000 fine, imprisonment of up to one year or both. Fraudulent failure to file — meaning an overt act of evasion — may elevate willful failure to a felony. That carries a fine of up to $100,000, imprisonment of up to five years or both, along with the costs of prosecution.
So, yeah, if the president failed to file a gift tax return and pay the hundreds of thousands of dollars required for these transactions, that could be a legitimate reason why he wouldn't want prosecutors to see his records.
[image via screengrab]
—
Follow Justin Baragona on Twitter: @justinbaragona
Have a tip we should know? [email protected]