Disappointed Sixth Graders Plead With WH Not To Cancel Their Tour: 'The White House Is Our House!'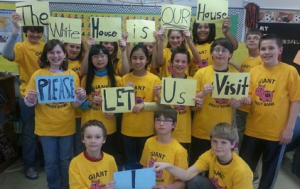 White House tours have been one casualty of the so-called sequester — and one group of sixth graders is especially upset about the development. So much so that they've channeled their dashed hopes into a Facebook effort, proclaiming the message: "The White House is our house! Please let us visit!"
The group is comprised of a dozen sixth graders who attend St. Paul's Lutheran School in Waverly, Iowa — and they were scheduled to tour the White House during an upcoming visit to the Washington, D.C., following "months of fundraising and building excitement."
Naturally, they were disappointed to learn Rep. Bruce Bailey's office that there would be no tour. While their visit is still on (a week from Friday), the children are hoping the White House doors won't stay closed.
"Our kids have done everything we have asked them to do and more," said Karen Thalacker, mother of 12-year-old Malcom Newell, who was to chaperone. "Now for us to say something out of our control is making their White House trip impossible is really disappointing."
She added:
"We're not here to pick sides about who's right and who's wrong. We'd just like the people's house to stay open so that not just our group but groups all across the country can come and visit the White House," she told ABC News. "It's very important. They'll remember it for the rest of their lives. And unfortunately they may remember that this is a sign of their government if they didn't get to go."
Others shared in that disappointment, noting that the children had been eagerly anticipating the trip, and also expressing frustration that Washington can't seem to resolve the situation.
"My daughter is so upset we're shut out of White House tour for her 7th birthday this month," said Cobey Dietrich of Bel Air, Maryland. "She even dressed as president of the United States for career dress-up day!"
Look what you've done, Washington.
ABC News' report below:

(h/t ABC News)
Have a tip we should know? [email protected]