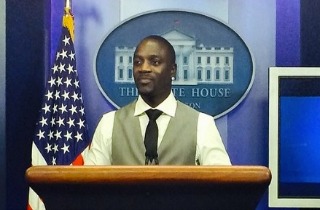 An interview with rapper Akon conducted by Mike Allen, star reporter at the Washington-based Politico, couldn't have come out at a better time. Forbes just named D.C. America's "coolest city."
Forbes' decision on Wednesday threw some people into a tizzy. "Washington is cool? More like passe," blared a headline at New York magazine (of course).
D.C.'s cool factor is understandably unseen by a lot of people. It's not for everyone.
But what's cooler than Akon? Or Mike Allen?
Akon and Mike Allen together. And their interview is nothing short of amazing.
Like when Akon complimented Allen's outdoor setup for the interview, which took place next to a highway and Bank of America. "I like your setup," Akon told Allen, who beamed with delight. "You're hustling, baby!"
The moment was captured on a Vine and shows the coolest handshake, topped off by Allen pounding Akon's wrist.
That's cool.
Then Allen notes Akon's impressive social media following (5.5 million Twitter followers, 55 million Facebook fans). "How do you do it?" an intrigued Allen asks. Akon explains that he has created an "intimate relationship" with his fans who, in turn, "follow" him.
That's cool.
The best part is when Akon takes a second to explain fame to Allen, who has been the subject of many a profile, including one in the New York Times. "Something as simple as getting a parking ticket," Akon said, "will make TMZ if I got it. But if you got it, no one would care." Allen nodded in what appeared to be agreement.
That's cool.
Watch a clip of the interview via Politico:
[Featured image via Instagram @akon]
— —
>> Follow Eddie Scarry (@eScarry) on Twitter
Have a tip we should know? tips@mediaite.com