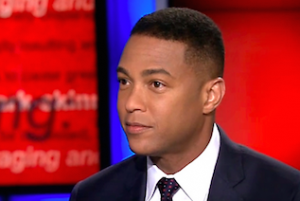 Don Lemon has hosted panels and specials on the use of the n-word, especially in rap music. He is outspoken about his belief that it should be eschewed altogether because white people won't stop using it and singing along to rap music that features it until it is gone. He has spoken repeatedly about who should be allowed to say it and who shouldn't and has worked to spark conversations about it.
Then again, he's also claimed he's "not the word police" and said he doesn't want to talk about it anymore.
Well, today he was back at it, writing and recording an op-ed for Black America about a recent YouTube video that shows white students at a prestigious Brentwood school singing along with the n-word-riddled lyrics of an A$AP Ferg song. He wrote this:
Now we can disagree over the use of the n-word.

We can disagree over who gets to say it and who doesn't.

Context obviously has a lot to do with it.
There was also this:
Songs, like poems are meant to be catchy, to be hummed, to be sung to be bought by the masses – That's the big idea behind them.

Can we really blame people of any color for singing a popular song?

If we don't want them to use a certain word perhaps you should stop writing it, saying it or singing it on a song.

I'm just saying.
Go ahead and listen to him explaining his beliefs here:
Interesting perspective. What do you think?
[image via screengrab]
For more from Lindsey, go to Twitter or go to Facebook.
Have a tip we should know? tips@mediaite.com