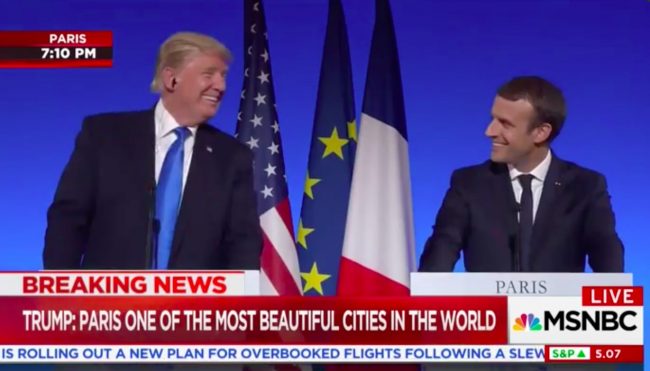 Coming off a day of touring in Paris, Donald Trump and French President Emmanuel Macron held a joint press conference.
Though it was brief, with the two men taking only four questions, it was unquestionably the best presser Trump has conducted since becoming president. The performance shows that, contrary to much of the media narrative surrounding the so-called "unscripted" Trump, the real estate magnate turned leader of the free world can still turn on the public charm when he wants to.
Trump's success in the press conference was far from expected — especially after questions got nasty.
From the American side ABC News reporter Cecilia Vega got the ball rolling with tough questions about potential impropriety surrounding Donald Trump Jr.'s meeting with a Russian lawyer.
"I think from a practical standpoint, most people would have taken that meeting. It's called opposition research," Trump said. "That's very standard in politics. Politics is not the nicest business in the world, but it's very standard, where they have information and you take the information."
Agree or not, it was an accurate rendering of the administration line on Trump Jr. There was no fake news, no personal attacks on reporter — no, ahem — blood.
When a French reporter brought up a series of nasty past statements about France and Paris (which Trump previously attributed to a friend named "Jim), the president laughed it off with a healthy dose of praise for Macron.
"You better let me answer that one first, that's a beauty," said Trump with an almost Kennedyesque aplomb.
"You know what, it's going to be just fine, because you have a great president," he went on. "You have somebody that's going to run this country right, and I would be willing to bet — because I think that this is one of the great cities, one of the most beautiful cities in the world — and you have a great leader now, you have a great president, you have a tough president."
While this may seem like boilerplate press briefing material, it wasn't that long ago when Trump slugged it out publicly with the press before a global audience. Remember that joint presser with Romanian President Klaus Iohannis in the Rose Garden? Even with just four questions, Trump offered to testify under oath in the Mueller probe and jousted with reporters over whether there were Comey tapes. Before today, the gold standard for a Trump joint press conference was to simply to walk away and leave journalists in the dust — as he did with Indian Prime Minister.
Now obviously, this would be par for the course of Obama, or even George W. Bush and it would be remiss to not acknowledge the increasingly low bar for Trump. Still, Trump has shown he can hold his own before an international audience under heavy fire.
Even if you don't agree with his responses — we can all agree, more of this please.
[image via screengrab] 
Follow Jon Levine on Twitter / Facebook.
Have a tip we should know? tips@mediaite.com