New York Times Hits NYC Private School After Father of Reporter 'Resigns' Under Pressure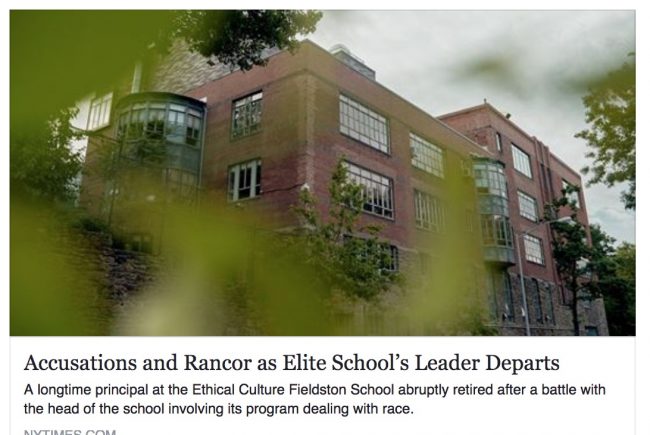 The New York Times is under fire for a critical report of a private school's handling of the resignation of a school principal, who just so happens to be the father of one of the paper's rising political reporters Alex Burns. Did the NY Times engage in some 'vendetta journalism' at the behest of one of their own?
First some background…
In this polarized media environment, this attack on a New York Times piece seems like it could have easily come from the mouth (or pen) of a conservative lawmaker railing against "fake news":
We are deeply disappointed that The New York Times has chosen to publish an article about our school that is fundamentally inaccurate. Despite our best efforts to share the true, objective facts with the Times, this article advances a false premise and creates an accompanying false narrative
Except, this didn't come in a Twitter-based jeremiad by an angry political commentator. This came in a note to parents of students at an elite, progressive school in New York City. Wha?
At issue is a Times article from yesterday about an alleged bias incident and the apparent firing of a long time principal at the Ethical Culture Fieldston school. The seemingly rambling story about petty differences at a school is filled with finger pointing and efforts by various participants to prove that she/he is more liberal than the next guy.
What caused this divide? Well school director George Burns who "had championed Conversations About Race," a mandatory diversity educational program where "children are divided into groups by race to discuss their experiences," was effectively fired.
As one can imagine, when you champion that sort of program you will have Manhattan defenders no matter what the facts show. But Burns also accused the head of the school, Jessica Bagby, of making an anti-semitic comment.
What makes the story so odd, however, is that as the Times reported, a major law firm was called in to investigate and "A 10-page memorandum produced as part of the investigation, dated Feb. 21, dismisses Mr. Burns's accusations, saying that he "either embellished the relevant events to create a picture of bias or is grossly misinterpreting what happened."
So, then what is the story here? And why did the Times publish such a long piece about a molehill, not a mountain. Well perhaps it's relevant that the accuser Mr. Burns, also happens to be the father of star Times political reporter, which to be fair, was disclosed in the piece.
The elder Burns "retired" on June 1st of this year under a cloud of allegations including his alleged treatment of women. Mediaite has learned that the younger Burns, apparently upset with his father's situation, pulled out of a fundraiser that he and fellow political reporter Maggie Haberman, another Fieldston graduate, had promised to hold at, yes, the offices of The New York Times. who had promised a lunch to auction off for the Feildston community. (Ed note – see update below.)
Mediaite has learned that a time-line seems to back up the school's concerns of a possible vendetta. On February 24, a final investigative report into a bias incident was delivered to representatives at Fieldston, including Burns. Two hours later, Alex Burns pronounced: "We are withdrawing our gift," with no explanation, the day before the lunch to raise money for financial aid.
The withdrawal of support of an institution that is at odds with one's father is understandable. But the canceling of a  fundraiser at the NY Times offices  a lunch with the two reporters for auction, raises questions about the relationship between how the NY Times editors approached this article.   (Ed note – see update below.)
When reached for comment, a spokesperson for the NY Times provided Mediaite with the following statement:
We believe that the story we published was thoroughly reported, fair and accurate, and that there was absolutely no conflict of interest or other ethical issue with it.

Alex was not a source for this story and had no role in shaping or influencing it. (The fact that he is George Burns's son was mentioned simply for the sake of transparency to readers.) His decision months ago on whether to participate in a Fieldston fund-raiser was entirely a personal matter for him; it had nothing to do with The Times and no connection to our story. If anyone is suggesting otherwise, they are simply wrong.
Fair enough. But at a time when the Times, and the media as a whole is under the microscope from many sides and bias and credibility are paramount, it is hard to believe that the New York Times went forward with what seems a long, hollow ​story with more than a whiff of possible conflicts of interest.
UPDATE! After publishing the story Mediaite learned more from a NY Times spokesperson:
Alex and Maggie donated a lunch to be auctioned off by the school, which was withdrawn. However, there was never any promise of visiting or eating lunch at The New York Times building. Alex specifically told them a tour of The New York Times newsroom was not allowed. They made the same donation the previous year and the lunch with that year's buyer took place at a restaurant.
Follow Jon Levine on Twitter / Facebook.
Have a tip we should know? tips@mediaite.com