Donald Trump's Kids Reportedly Told Him: Stop Bashing Obama, Ruining Family Name
Trump's Kids Reportedly Told Him: Stop Bashing Obama, Ruining Family Name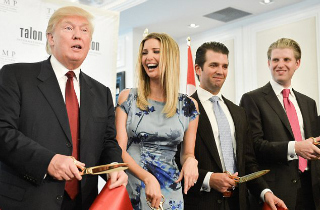 According to the NY Daily News, Donald Trump's three eldest children held a pre-election meeting with the outspoken businessman to request that he tone down his anti-Obama rhetoric lest he ruin the family's reputation.
A source told the New York paper that Eric, Donald Jr. and Ivanka Trump met with their father in mid-October to request that he calm down the presidential bashing.
"The three of them met and went to see their dad in his Fifth Ave. office," the source said. "They showed a lot of respect, but told him he's worked too long and too hard to build up the reputation he has. They understand completely he's always been outspoken and that he likes attention, but this is too much."
However, Trump's reps deny the existence of any such meeting, calling any rumors "completely untrue" and that his children love his exercise of "free speech" and would "they would never" try to rein in their father.
Throughout the 2012 election season, Trump became rather infamous for continually bashing the president over a variety of issues — namely whether Obama was legitimately born in the United States. Despite the state of Hawaii presenting an official birth certificate to try and end the whole debacle, Trump persisted on, claiming that there are ways for this document to have been fraudulent.
The News' source said that the Trump "kids said they know it's not helping" the business for Trump to be engaged in "birtherism." "They told him you can't throw this all away on this nonsense," the source claimed.
The children will succeed their father as heir to the Trump empire of wealth and so, naturally, they were concerned for their own well-being. But the source said that the kids "want their dad to get respect and then the whole family does well."
[h/t NY Daily News]
Have a tip we should know? tips@mediaite.com