Jake Tapper Commemorates Five-Year Blog Anniversary – And Gives Us A Celebratory Haiku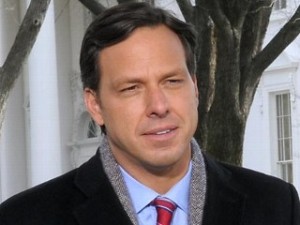 ABC News' Chief White House Correspondent Jake Tapper was one of the first mainstream media bloggers, and today it's his blog's five-year anniversary.
While the tone has changed a lot through the years, we asked Jake for a celebratory haiku to mark the momentous occasion.
"Please forgive me this solipsistic indulgence, but five years ago today, this blog began, and the good folks at ABC News asked me to write something to note the occasion," began the post today. More:
Editorially we've veered all over the place. We no longer do "Friday Treats," or haiku or any poetry for that matter. The blog has become less personal, though twitter has allowed more of an outlet for that sort of whimsy. I've learned a lot from comments left below, from the feedback from other bloggers, and of course by trying to write this blog, day in and day out, sometimes stumbling, sometimes boring you silly, sometimes making you angry.
Back in January 2009 I asked Tapper about the discontinued Haikus. "It's kind of like that muscle's out of shape," he said. "I don't philosophically have a problem with it, I just haven't thought about it much lately."
Well in honor of the anniversary, we asked Tapper for a Haiku. Here it is:
Happy Birthday, Blog!
What do you get for the blog
that has everything?
More Twitter followers? Another exclusive interview? A Sunday show? (Ha.)
Check out Tapper's first post ever here. It begins 'Yo.'
——
» Follow Steve Krakauer on Twitter
Have a tip we should know? tips@mediaite.com