Ed Schultz Comes To Rush Limbaugh's Defense: Targeting Advertisers 'Wrong Thing To Do'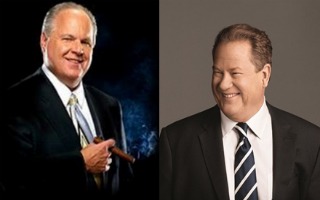 MSNBC host and liberal radio talker Ed Schultz broke with many of his colleagues on the left when he said that he did not agree with some group's efforts to pressure the advertisers to Rush Limbaugh's radio program to end their support for his show. "There's a lot of people getting hurt," Schultz said "This is going to too far."

RELATED: Sandra Fluke Backlash? Rush Limbaugh's Ratings Dipped In April
Schultz made his comments before an audience at the Talkers New Media Seminar on June 7 in New York City. There, he addressed an ongoing campaign to force Rush Limbaugh off the air by threatening to boycott his advertisers unless they drop his program. The effort began shortly after he called woman's issues advocate Sandra Fluke a "slut," but investigative reporting has suggested the effort had been conceived as early as 2007.
"If we start attacking advertisers because of what somebody said — it's the wrong thing to do," Schultz told the audience.
He said that he contacted the liberal media watchdog group Media Matters for America's chief David Brock and expressed his concerns that the boycott effort was going too far.
"I need you to know what's happening," Schultz recalled telling Brock. "'This is what's happening. There's a lot of people getting hurt. This is going to too far. It's my opinion; you can take it for what it's worth.'"
The Huffington Post contacted Brock for comment. He said that "Media Matters has a philosophical disagreement with Ed here," and indicated that their boycott efforts would continue.
Similar efforts to target advertisers to drop their support for controversial radio and television personalities have track records of success. In 2007, after radio host Don Imus made a controversial statement about the Rutgers University basketball team, he became the target of a boycott effort led by Al Sharpton's Rainbow Coalition. Imus lost only a few advertisers before CBS Radio Inc. dropped his program.
A similar tactic was employed against Glenn Beck when he hosted a program on Fox News Channel. Fox eventually dropped Beck's program in 2011, but they claimed the move was due to a decline in ratings rather than in advertising dollars.
But the advocates of a boycott against Limbaugh have taken on a challenge greater than Imus or Beck. After initial success, getting several major advertisers and a few affiliates to drop Limbaugh's program, the effort has stalled.
h/t Huffington Post
Follow Noah Rothman on Twitter
Have a tip we should know? [email protected]