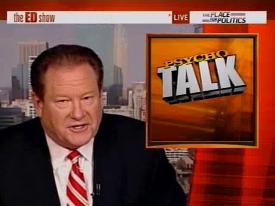 Seriously, people, who took Ed Schultz's stapler?
New York Post's Page Six reports the MSNBC host, whose 6pmET show features a segment called "Psycho Talk," had an epic meltdown earlier this month after being left out of MSNBC promos about the election coverage.
From Page Six:
MSNBC talk show screamer Ed Schultz had a meltdown in the network's 30 Rock newsroom, shouting at staff, "I'm going to torch this [bleep]ing place."

The hot-tempered anchor of "The Ed Show" lost it during a phone call in the packed studio and slammed down the phone before exploding.

As astonished MSNBC staff members fell silent, Schultz glared around the room and yelled, "[Bleep]ers!"

A witness told us, "Ed was furious the network was running election-night promos and he wasn't in them. He'd been arguing on the phone with marketing, then he slammed down the phone and exploded. It was like Mel Gibson had entered the newsroom."
For an example of what this might have sounded like, check this out. The Post reports this happened August 12 – Schultz was on the air that night and the next, but was out the following week.
Inside Cable News catches what must have been a reference to the incident the next morning on Morning Joe, when Joe Scarborough pretends to walk off the set and shouts "I'm going to torch this place!"
A source told Page Six Schultz was reprimanded, told he would be fired if it happened again and "he broke down crying." Also, "a spokeswoman for Schultz and the network declined to comment on the incident but said, 'The only thing that's on fire are Ed's ratings, and the only people crying are at CNN.'" As a side note, this new CNN vs. MSNBC battle is surprising and enjoyable. Wait until things heat up in the fall when Eliot Spitzer, Kathleen Parker and Piers Morgan (probably) are involved!
Here's Morning Joe the next day mimicking Milton Ed:

—–
» Follow Steve Krakauer on Twitter
Have a tip we should know? tips@mediaite.com