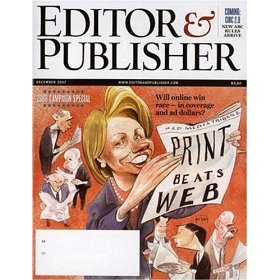 Today is a sad, defining day for the media industry: Editor & Publisher announced to staffers that it will be shutting down by the end of the year. E&P has been in print for 125 years, and was the leading trade publication covering the newspaper industry: its demise is a sign of how badly that industry has been hammered over the past few years, and further calls into question its future survival.
According to Alan Mutter of Reflections of a Newsosaur, the closing of this respected, influential publication could further send print into a tailspin: "With the pending shutdown of the authoritative trade magazine and the reduction in the last few years in the number of securities analysts covering publishing, there will be scant independent reporting and commentary on the troubled industry at a time it most needs objective and honest feedback."
Romenesko has the full memo detailing the shutdown from Greg Farrar, the president of Nielsen Business Media. Farrar implicitly links the decision to shutter E&P with its lack of "potential for growth:"
Today, we announced that Nielsen Business Media has reached an agreement with e5 Global Media Holdings, LLC, a new company formed jointly by Pluribus Capital Management and Guggenheim Partners, for the sale of eight brands in the Media and Entertainment Group, including Adweek, Brandweek, Mediaweek, The Clio Awards, Backstage, Billboard, Film Journal International and The Hollywood Reporter. e5 Global Media Holdings has also agreed to acquire our Film Expo business, which includes the ShoWest, ShowEast, Cinema Expo International and CineAsia trade shows.

In addition, we've made the decision to cease operations for Editor & Publisher and Kirkus Reviews.

This move will allow us to strengthen investment in our core businesses – those parts of our portfolio that have the greatest potential for growth – and ensure our long-term success. We remain committed to building our trade show group and affiliated brands. These assets continue to be a key part of The Nielsen Company's overall portfolio and we strongly believe they are positioned to grow as the economy recovers. In addition, we'll continue to assess the strategic fit of our remaining portfolio of publications.
Have a tip we should know? tips@mediaite.com