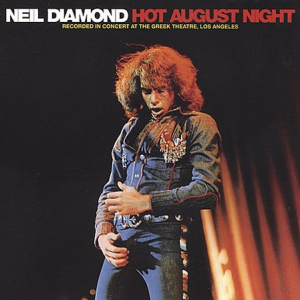 Oh, my God, hearing this voice sing this song is unbelievable. As I wrote yesterday, Adam Sandler's the Chanukah Song was a huge, huge deal for me — I remember exactly where I was when I heard it, I had just walked into my room in my apartment during law school and turned on my boom box and the song was playing and I just stopped short, gaping at my little black Sony thing emitting the most amazing thing I had ever heard. Really, it was a big deal. Neil Diamond was a big deal, too — The Jazz Singer was my favorite movie long before I understood it (I was very confused by why everyone was so angry in this very unsubtle scene) and "You Don't Bring Me Flowers" was my one of my favorite songs (yeah I was a weird little kid). More to the point, Who knew Neil Diamond, Adam Sandler and Orrin Hatch had anything in common?
Diamond's voice is just flat-out iconic – he could sing anything and it would sound like shul and summer camp and an unbuttoned shirt filled with chest hair — so hearing him sing this, well, my mind is a little blown. I thought nothing could top Orrin Hatch (who easily topped me) but give this puppy a listen. BTW serious connoisseurs will catch that Diamond is pretty faithful to the original (including the timing on "Both Jewish!" Well done, though not true for Chris Pine and Zachary Quinto). but changes the line from "Tom Cruise isn't but I think his agent is" to "Tom Cruise isn't but Jesus Christ is" (wow that's already on Wikipedia). He also urges you not to smoke your marijuanikah. Keep it clean, kids. God I love this man. Watch below.


Via HuffPo. THANK YOU.
Have a tip we should know? tips@mediaite.com