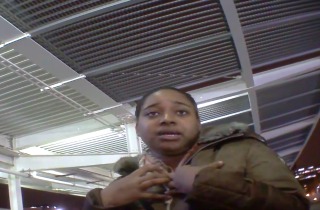 A new undercover video from Project Veritas, the conservative investigative organization led by well-known provocateur James O'Keefe has released undercover video purportedly showing relatives of both Michael Brown and Eric Garner criticizing Al Sharpton and his National Action Network (NAN).
The big news-making part of the video, however, is when Garner's daughter, Erica Snipes, 24, suggests Sharpton and his group are all about money and promoting their organization.

As with most O'Keefe videos, the footage is heavily edited — at times with jump-cuts between the end of a question and the subject's purported answer — but Snipes does clearly suggest Sharpton's group has treated her unfairly.
"You think Al Sharpton is kind of like a crook in a sense?" the undercover Project Veritas staffer asked while posing as a Garner supporter during a rally in Staten Island.
"He's about this," Snipes replied, while rubbing her fingers together.
"He's about money with you?" the undercover camera operator clarified for Snipes.
"Yeah," the daughter replied.
Snipes had more direct words for NAN's Staten Island director Cynthia Davis, who she said has repeatedly "attacked" her for not including the logo of Sharpton's organization on fliers for pro-Garner events.
"Instead of me, he wants his face in front," Snipes told the undercover person, referring to Sharpton and NAN's desire to have their logo front and center.
"Al Sharpton paid for the funeral," Snipes later added. "[Davis] is trying to make me feel like I owe them."
The New York Post spoke with Snipes, and she disputed that she had characterized Sharpton as money-hungry. "No, I didn't say that I think Al Sharpton is all about the money," she told the paper. However:
But she stood by her criticism of Davis, the NAN director, who she claimed tried to block her from attending a protest at the Staten Island Museum against mass incarceration.
The newspaper also spoke with Sharpton himself:
Sharpton on Monday night accused Project Veritas of "exploiting" Snipes and a dispute within the Garner family.

"They're splicing and dicing stuff together. It was a distortion. Erica is a sincere victim. She was not trying to infer anything with me," Sharpton said of the secret recording.

Sharpton said the premise of the criticism is flat wrong. He said NAN helps families, including paying for funerals, and does not take money from them. He said Snipes' sister, Emerald, now works for NAN.
Read the full report here, and watch the video below:
— —
Have a tip we should know? tips@mediaite.com