Chicago Police Reportedly Used Gitmo-Style 'Black Site' to Illegally Detain Citizens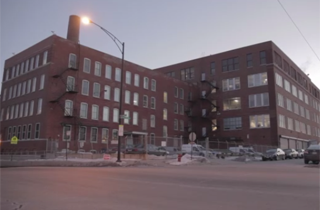 If there's one thing you must read today, it's this: an expose in The Guardian, detailing the Chicago Police's secret "black sites," inspired by Guantanamo Bay and used to illegally detain American citizens.
According to the Guardian, a "nondescript" warehouse in Chicago's Homan Square is used by the CPD for work they would like to keep "off-the-books," particularly work that happens to violate the Constitution. "It's sort of an open secret among attorneys that regularly make police station visits, this place," Chicago lawyer Julia Bartmes told The Guardian. "If you can't find a client in the system, odds are they're there," being subjected to the following treatments:
Alleged police practices at Homan Square, according to those familiar with the facility who spoke out to the Guardian after its investigation into Chicago police abuse, include:

Keeping arrestees out of official booking databases.
Beating by police, resulting in head wounds.
Shackling for prolonged periods.
Denying attorneys access to the "secure" facility.
Holding people without legal counsel for between 12 and 24 hours, including people as young as 15.

At least one man was found unresponsive in a Homan Square "interview room" and later pronounced dead.
The report cites multiple examples of people held in these prisons, such as Brian Jacob Church, a NATO protester held on terrorism-related charges that were eventually dropped. Jacon Church, who was arrested in 2012, detailed how he was held at Homan Square for nearly 17 hours, completely restrained, without being read his Miranda rights or allowed to contact an attorney:
In preparation for the Nato protest, Church, who is from Florida, had written a phone number for the National Lawyers Guild on his arm as a precautionary measure. Once taken to Homan Square, Church asked explicitly to call his lawyers, and said he was denied.

"Essentially, I wasn't allowed to make any contact with anybody," Church told the Guardian, in contradiction of a police guidance on permitting phone calls and legal counsel to arrestees.

Church's left wrist was cuffed to a bar behind a bench in windowless cinderblock cell, with his ankles cuffed together. He remained in those restraints for about 17 hours.

"I had essentially figured, 'All right, well, they disappeared us and so we're probably never going to see the light of day again,'" Church said.
Multiple lawyers, representing clients accused of terrorism, drug, or gang-related charges, confirm that they've lost track of their clients in Homan, and when they attempted to contact them, have been turned away by Chicago police officers:
One man in January 2013 had his name changed in the Chicago central bookings database and then taken to Homan Square without a record of his transfer being kept, according to Eliza Solowiej of Chicago's First Defense Legal Aid. (The man, the Guardian understands, wishes to be anonymous; his current attorney declined to confirm Solowiej's account.) She found out where he was after he was taken to the hospital with a head injury.

"He said that the officers caused his head injuries in an interrogation room at Homan Square. I had been looking for him for six to eight hours, and every department member I talked to said they had never heard of him," Solowiej said. "He sent me a phone pic of his head injuries because I had seen him in a police station right before he was transferred to Homan Square without any."
In one case, a man, who was not charged with any crimes, mysteriously died:
On February 2, 2013, John Hubbard was taken to Homan Square. Hubbard never walked out. The Chicago Tribune reported that the 44-year old was found "unresponsive inside an interview room", and pronounced dead. The Cook County medical examiner's office could not locate any record for the Guardian indicating a cause of Hubbard's death. It remains unclear why Hubbard was ever in police custody.
The article's author, Spencer Ackerman, recently published another expose about the Chicago police, in which he accused an award-winning Chicago detective of engaging in horrific acts of interrogation and torture, including "shackled suspects to walls for extended periods, threatened their family members, and perhaps even planted evidence on them." The detective, Richard Zurley, eventually transferred these tactics to Guantanamo Bay, where he "oversaw a shocking military interrogation that has become a permanent stain on his country."
Here's a video summary of the report, via The Guardian:
[The Guardian]
[Image via screenshot]
— —
>> Follow Tina Nguyen (@Tina_Nguyen) on Twitter
Have a tip we should know? tips@mediaite.com