Ex-FBI Official: Comey Didn't Want FBI's Name On Russia Statement, Citing Election Timing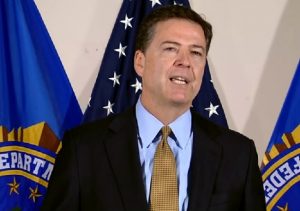 Well, in light of recent developments, this seems a bit ironic.
In light of complaints that FBI director James Comey has needlessly impacted the presidential election by issuing a letter to Congress related to the investigation into Hillary Clinton's private email server, CNBC reported on a source stating that Comey didn't want the FBI attached to a statement citing — election timing concerns.
Per the article, a former FBI official said that the intelligence statement from earlier this month claiming Russian was meddling in the election didn't have the FBI's name on it due to Comey's concerns.
FBI Director James Comey argued privately that it was too close to Election Day for the United States government to name Russia as meddling in the U.S. election and ultimately ensured that the FBI's name was not on the document that the U.S. government put out, a former FBI official tells CNBC.

The official said some government insiders are perplexed as to why Comey would have election timing concerns with the Russian disclosure but not with the Huma Abedin email discovery disclosure he made Friday.

In the end, the Department of Homeland Security and The Office of the Director of National Intelligence issued the statement on Oct. 7, saying "The U.S. intelligence community is confident that the Russian Government directed the recent compromises of emails from US persons and institutions, including from US political organizations…These thefts and disclosures are intended to interfere with the US election process."
Per CNBC, a spokesperson for the FBi declined to comment on the story.
[image via screengrab]
–
Follow Justin Baragona on Twitter: @justinbaragona
Have a tip we should know? tips@mediaite.com