White Nationalist Sponsors Utah Robocalls Telling Voters Evan McMullin Is 'Closet Homosexual'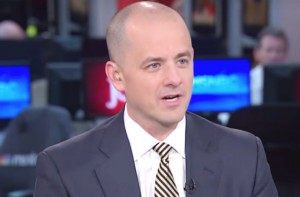 The white nationalist who has sponsored pro-Trump robocalls throughout the election cycle unveiled a new campaign in Utah intended to convince voters there that conservative independent candidate Evan McMullin is secretly gay.
The robocall features William Daniel Johnson, a Los Angeles-based attorney and leader of the white nationalist American Freedom Party (AFP), telling Utahans that he believes "Evan is a closet homosexual."
The script of the robocall says:
Hello, My name is William Johnson. I am a farmer and a white nationalist. I make this call against Evan McMullin and in support of Donald Trump. Evan McMullin is an open borders, amnesty supporter. Evan has two mommies. His mother is a lesbian, married to another woman. Evan is okay with that. Indeed, Evan supports the Supreme Court ruling legalizing gay marriage. Evan is over 40 years old and is not married and doesn't even have a girlfriend. I believe Evan is a closet homosexual. Don't vote for Evan McMullin. Vote for Donald Trump. He will respect all women and be a president we can all be proud of. I paid for this ad through the American National super-PAC.
During the primary, Johnson's super-PAC sponsored pro-Trump robocalls that said, "We don't need Muslims. We need smart, well-educated white people." Another robocall featured a woman identifying herself as a member of the AFP and saying, "I am voting for Donald Trump because he will not only be presidential, he will put America first. Furthermore, he will respect all women and will help preserve Western civilization."
Trump has disavowed Johnson's robocalls, but he said that they were attributable to people being justifiably angry.
Johnson was also chosen to be a delegate for the Trump campaign. "I can be a white nationalist and be a strong supporter of Donald Trump and be a good example to everybody," he told Mother Jones at the time. The Trump campaign chalked his selection up to a "database error" and removed him from that role after MoJo broke the story.
He has expressed a desire to create "a white ethno-state" since "that's the only way western civilization and the white race will survive." The AFP, of which Johnson is the chair, was "initially established by racist Southern California skinheads," and "aims to deport immigrants and return the United States to white rule," according to the Southern Poverty Law Center.
McMullin is currently polling in second place behind Trump in Utah, according to an RCP average of recent polls.
McMullin tweeted out that the robocalls were a "desperate attack from GOP nominee [Donald Trump] and his racist supporters as he continues to lose ground in Utah." The robocalls were "consistent with [Trump's] bigoted, deceitful campaign and vision for America," he said.
Another desperate attack from GOP nominee @realDonaldTrump and his racist supporters as he continues to lose ground in Utah. https://t.co/U8unh0OS3D

— Evan McMullin (@Evan_McMullin) October 31, 2016
This post has been updated to include McMullin's tweet.
Have a tip we should know? tips@mediaite.com