Ex-Russia Today Anchor: 'The Goal of Russian Media is to Undermine Faith in Our Institutions'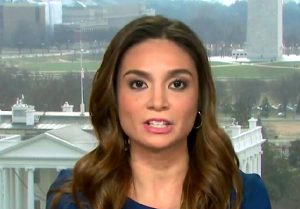 During a panel discussion on CNN's Reliable Sources today, former Russia Today anchor Liz Wahl explained that the goal of the Russian media is to create disinformation to undermine democracy and faith in institutions.
Host Brian Stelter began the conversation by bringing up Hillary Clinton counsel Marc Elias calling on the press to apologize for not covering the Russian threat more seriously before the election, now that it has been reported that the CIA has concluded Russia interfered to assist Donald Trump.
Julia Ioffe pointed to her own writing to explain that many in the media did cover the topic extensively. She then noted how Russian television portrayed Trump as wonderful and that the Kremlin was all "about sowing chaos and undermining democratic institutions."
Wahl followed that up by agreeing with Ioffe's assessment that Russian media's goal is to create chaos.
"I mean, that is the main goal of Russian disinformation, whether it be through their television channels, whether it be through other measures like hacking, like their legions of paid trolls," Wahl said. "That is the ultimate goal is to undermine democracy, to undermine faith in our institutions, like the media."
She added that Trump has "basically matched some of these key talking points and Russian propaganda to undermine our system."
Later in the discussion, Wahl circled back to that point.
"And I think that's the point of Russian media, Russian disinformation has been happening for years now," she stated. "But people didn't really take it seriously. I mean, the goal of Russian media is to undermine faith in our institutions and now, they've succeeded in hacking our elections."
Watch the clip above, via CNN.
[image via screengrab]
–
Follow Justin Baragona on Twitter: @justinbaragona
Have a tip we should know? tips@mediaite.com