Ex-Sheriff David Clarke's Staffers Charged in Dehydration Death of Detainee at Milwaukee Jail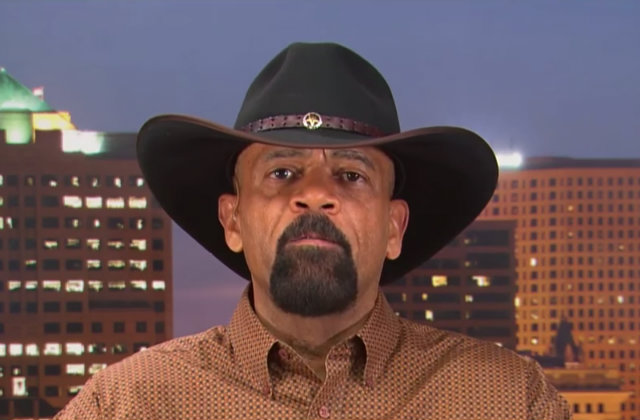 Three of Sheriff David Clarke's former staffers face charges in a dehydration related death of a detainee in the Milwaukee County jail that occurred nearly two years ago.
While Clarke — who is best known for wearing comically large hats and being one of the president's most passionate supporters — resigned in August 2017 to join a pro-Donald Trump super PAC, the prisoner's death happened under his watch in 2016.
As reported by the Milwaukee Journal Sentinel, charges against the Milwaukee County Sheriff's Major Nancy Evans, along with two other staff members, are tied the death of Terrill Thomas — a captive who was diagnosed with bipolar disorder and died after being detained in solitary confinement for a week without access to water.
Court documents regarding the charges describe Evans involvement by saying:
"Defendant Evans' course of conduct during the investigation into Mr. Thomas' death, of withholding information from her superiors, lying to her supervisors, failing to preserve evidence, repeatedly lying to law enforcement investigators and lying at the inquest, constituted misconduct in public office."
Clarke has yet to comment on the charges, but he did attack the deceased inmate's past when asked for comment on the case in 2017.
"I have nearly 1,000 inmates. I don't know all their names but is this the guy who was in custody for shooting up the Potawatomi Casino causing one man to be hit by gunfire while in possession of a firearm by a career convicted felon? The media never reports that in stories about him. If that is him, then at least I know who you are talking about," Clarke said to the Associated Press.
This isn't the first time a prisoner in Clarke's jail died under controversial circumstances. During the same year as Thomas' dehydration death, a baby died inside the facilities due to staff refusing to assist a detainee who was in labor.
Clarke built his brand in conservative media by consistently condemning Black Lives Matter, blaming the group for the death of officers in the line of duty, and stumping for Trump. When BLM protests broke out in Milwaukee as a response to police shooting a black man, Clarke blasted the "questionable lifestyle choices" of the African-American community.
[images via screengrab]
Follow the author on Twitter (@calebecarma).
Have a tip we should know? [email protected]