Ex-Special Forces Officer Says James Mattis 'Betrayed His Duty to Us' and 'Left Us to Die'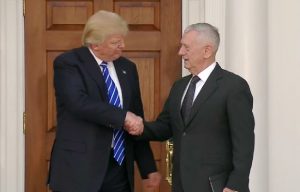 According to NBC News, a former Special Forces officer who served in Afghanistan shortly after 9/11 is accusing the new Secretary of Defense nominee of not acting appropriately to save soldiers who died due to friendly fire.
Gen. James 'Mad Dog' Mattis was serving as a brigadier general in Afghanistan in December 2001 when a team of Green Berets who were accompanying Afghans were struck by an American smart bomb. Two soldiers died instantly and a third who was wounded would die later. Dozens of Afghans were also killed in the bombing. Mattis, who was in command nearby, reportedly ignored multiple requests to send a rescue mission.
Jason Amerine, an Army Captain at the time who led the operation, took to Facebook today to rail against Mattis for his indecisiveness and allowing soldiers to die. According to Amerine, since it was identified early on that it was friendly fire and that his group wasn't engaged with any enemy contacts.
He noted that "[e]very element in Afghanistan tried to help us except the closest friendly unit, commanded by Mattis." Amerine also pointed out that one soldier and two Afghans died during the additional time it took for them to get to base.
"He was indecisive and betrayed his duty to us," Amerine wrote. "Leaving my men to die during the golden hour when he could have reached us."
He continued to rail against Mattis, "Thanks to Facebook mob mentality, there has been a revisionist history of the man who left us to die but is now compared to Patton due to his juvenile quotes that demean all of us as service members."
This incident was described in the 2011 bestselling book The Only Thing Worth Dying For. Mattis has not publicly commented on it.
[image via screengrab]
–
Follow Justin Baragona on Twitter: @justinbaragona
Have a tip we should know? tips@mediaite.com