'Fat, Stupid, Greedy, Classless Bastards': Brother of Masters Golf Champ Pens Crazy Anti-America Rant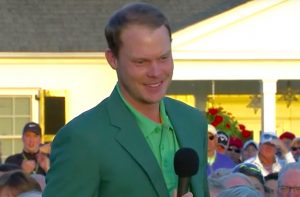 It's time for the Ryder Cup — the high-stakes biennial golf matches which pit the 12 best golfers from the US against the best dozen from Europe.
Things can get pretty heated at the Ryder Cup, though there was some thought the event might be more muted this year, given the passing of golf legend Arnold Palmer on Sunday. But the brother of one member of Team Europe has just ratcheted up the tension in a big way.
In a column for Nationalclubgolfer.com, Pete Willett — the brother of reigning Masters champ Danny Willett — went off on a crazy rant in which he called US golf fans, among other things, "pudgy, basement dwelling irritants," and the US Ryder Cup team, "a baying mob of imbeciles."
Here's a portion of his rant:
They need to silence the pudgy, basement-dwelling, irritants, stuffed on cookie dough and pissy beer, pausing between mouthfuls of hotdog so they can scream 'Baba booey' until their jelly faces turn red.

They need to stun the angry, unwashed, Make America Great Again swarm, desperately gripping their concealed-carry compensators and belting out a mini-erection inducing 'mashed potato,' hoping to impress their cousin.

They need to smash the obnoxious dads, with their shiny teeth, Lego man hair, medicated ex-wives, and resentful children. Squeezed into their cargo shorts and boating shoes, they'll bellow 'get in the hole' whilst high-fiving all the other members of the Dentists' Big Game Hunt Society.
Willett lays out his strategy for winning, and says that if Team Europe fails on those points,"the Americans will claim their second victory this century… those fat, stupid, greedy, classless, bastards."
Wow. This guy, really, really, really wants Team Europe to win, doesn't he?
During my 33 years as an avid sports watcher, I have never cared more about the result of a single event. I am desperate for a win. Such desperation can lead to puerile outbursts. A more immature mind than mine might resort to petty insults or unflattering generalisations.
Whew. Good thing he didn't resort to any of that.
[h/t Ryan Lavner – The Golf Channel]
[image via screengrab]
–
Follow Joe DePaolo (@joe_depaolo) on Twitter
Have a tip we should know? tips@mediaite.com
Joe DePaolo - Senior Editor