Fiorina Slams Trump's Carson-Child Molester Comparison: You Would Know About Pathological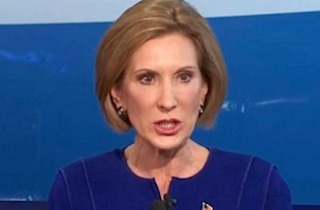 Carly Fiorina retaliated on behalf of Ben Carson last night, attacking Donald Trump on Facebook for his comparison of the neurosurgeon's "pathological" behavior as a young man to that of child molesters.
"Donald, sorry, I've got to interrupt again," Fiorina wrote, in an obvious reference to when Trump got booed after chastising her interjections during the the GOP debate. From there, Fiorina gave further slams for Trump's "meeting" of Vladimir Putin in a 60 Minutes greenroom, as well as referencing the skepticism of whether his campaign is really self-funded after accepting donations in past months.
"You would know something about pathological. How was that meeting with Putin? Or Wharton? Or your self funded campaign?" Fiorina asked. "Anyone can turn a multi-million dollar inheritance into more money, but all the money in the world won't make you as smart as Ben Carson."
With the reference to Carson, there is a high probability that Fiorina was responding to Trump's CNN interview last night, where he went after the pathological behavior Carson described in his books before he changed his life. Trump used his assertions during a campaign event in Iowa as well, when he went off on a blistering rant as he savaged the life story of his closest competitor in the GOP polls.
"You don't cure a child molester. There's no cure for it. Pathological, there's no cure for that," Trump said.
You can read Fiorina's complete Facebook post here.
UPDATE – 3:24 P.M. EST Of course, Trump can never let these things go, so he responded to Fiorina the only way he knows how to do:
.@CarlyFiorina Carly, not just you, I also told Gov. Kasich to "let Jeb talk, give him a chance" because Kasich was constantly cutting in.

— Donald J. Trump (@realDonaldTrump) November 13, 2015
.@CarlyFiorina Carly—I did graduate from Wharton and did very well. Who is your fact checker? Will you apologize?

— Donald J. Trump (@realDonaldTrump) November 13, 2015
.@CarlyFiorina Ben Carson said in his own book that he has a pathological temper & pathological disease. I didn't say it, he did. Apology?

— Donald J. Trump (@realDonaldTrump) November 13, 2015
.@CarlyFiorina I only said I was on @60Minutes four weeks ago with Putin—never said I was in Green Room. Separate pieces—great ratings!

— Donald J. Trump (@realDonaldTrump) November 13, 2015
[h/t The Blaze]
[image via screengrab]
— —
>> Follow Ken Meyer (@KenMeyer91) on Twitter
Have a tip we should know? tips@mediaite.com