First Nate Silver, Now David Pogue: NY Times Losing Some of Its Biggest Media Stars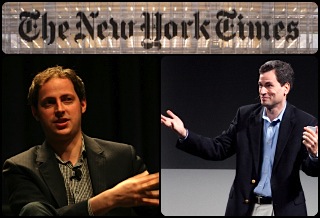 Just like Nate Silver before him, David Pogue is leaving The New York Times for greener, and more independent pastures. The paper's most popular technology writer announced Monday that he has accepted an offer from Yahoo to "help build a new consumer-tech site."
With his prolific coverage of all things tech on NYTimes.com's Pogue's Posts and Bits blog and helpful video series, Pogue has been a major figure at the Times since joining the paper in 2000. In his new role at Yahoo, however, he will likely be able to do even more. "I'll be writing columns and blog posts each week, of course, and making my goofy videos," he writes in his announcement. "But my team and I have much bigger plans, too, for all kinds of online and real-world creations."
Pogue also acknowledged that he hasn't always been a fan of the often-struggling Yahoo. "Now, listen: I realize that Yahoo is an underdog, he writes. "I've given them a few swift kicks myself over the years." But he made his announcement on the recently Yahoo-acquired Tumblr, demonstrating the company's progress since Marissa Mayer came on board as CEO.
The move from The New York Times, where he ran a fairly traditional blog, to Yahoo, where he will operate a more robust web project, closely echoes Nate Silver's transition earlier this year. An even bigger star at the Times, who at one point accounted for 20% of the site's traffic, Silver departed earlier this year to move his 538 brand to ESPN, where he will be able to run the stand-alone free of any constraints he may have felt at the Times.
During a question-and-answer session in July, Silver laid out what he sees as the similarities and differences between The New York Times and ESPN. "ESPN, like the NYT, is a huge news organization," he said. "There are always going to be products targeted to different types of consumers. The question is how harmoniously they can co-exist, and I think ESPN executes that very successfully. Our little 538 corner is going to have a lot of editorial freedom and a lot of 'voice.'"
Yahoo may not have a proven editorial success story like Bill Simmons' Grantland.com at ESPN, whose model Silver will be working from, but as Pogue quotes Mayer saying in his announcement, Yahoo is "the world's biggest startup" and clearly willing to take big chances on talent. Assuming Silver and Pogue are able to find success in their respective ventures, the question remains: why can't The New York Times and other legacy media companies hold on to their biggest stars?
In addition to these two stories, the past year saw Andrew Sullivan depart Newsweek/The Daily Beast to start his own independent platform. And just last week, The Guardian's Glenn Greenwald revealed that he is taking the massive profile boost he got from the Edward Snowden NSA leak story and starting his own journalistic endeavor with backing from eBay founder Pierre Omidyar.
In all of these cases, the figures involved are banking that their personal brands can outweigh the importance of the traditional media brands they left behind. They each used the massive reach of those outlets to build up their profiles and name recognition before more or less striking out on their own. The New York Times and these other media companies helped create stars like Silver and Pogue, but they ultimately could not or would not do what it took to keep them on board.
As print media continues to fade away and the online landscape becomes more and more fractured, perhaps the value of reporting for The New York Times or The Guardian will be diminished. That would be an unfortunate outcome for those news organizations. But if they want to stay as relevant as they've been for the last couple of hundred years, they will need to figure out how to incentivize their biggest stars to stick around.
[photos via Wikiemedia Commons]
— —
>> Follow Matt Wilstein (@TheMattWilstein) on Twitter
Have a tip we should know? tips@mediaite.com