Jon Karl Presses Carney to Delay Obamacare Mandate: 'You Can't Really Charge People a Fine…'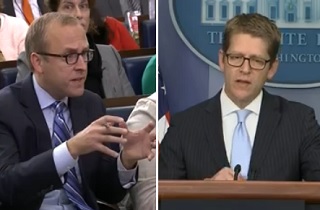 Shortly after President Obama delivered remarks on the implementation of the Affordable Care Act, White House Press Secretary Jay Carney conducted a briefing in which he seemed to leave open the possibility that the problems with the Obamacare website could immunize consumers from the individual mandate, while also appearing to rule it out. ABC News' Jon Karl emphatically pressed Carney to delay the individual mandate, and CBS News' Major Garrett pressed Carney for clarification.
After Carney told CNN's Brianna Keilar that the individual mandate in the Affordable Care Act makes allowances for those who fail to acquire health insurance due to a lack of access, such as those in states where Republican governors refused to expand Medicaid, Karl cut to the chase. "Given all the problems we have seen with people trying to enroll in this program, is the White House going to be delaying the mandate?"
"That is not at all what I was saying," Carney replied.
"Well, why not?" Karl cut in. "Why not delay? You are going to charge people a fine for not enrolling."
"We're three weeks into a six-month enrollment period," Carney replied, adding that "the law itself, as written, makes clear that Americans with access to affordable insurance would need to have insurance by March 31. The people that do not have access to affordable care, due to a state not expanding Medicaid, and there are states out there depriving their own residence of access to expanded Medicaid because they made that choice, or due to other factors, will not be penalized."
He then spent a few minutes reiterating the President's message that the focus is on fixing the problems, and delivering affordable health care to Americans.
"You cannot really charge people a fine for not getting health insurance if you don't fix this mess, if you can't get the website to work, can you?" Karl asked.
"I appreciate what you're saying, and I have answered now, and will answer again…" Carney began.
"If the website is not fixed, will people still have to pay the fine?" Karl interrupted.
"First of all, we are way still early in the process," Carney said, noting again that "we are three weeks into this," but added that the law "as written, it is clear that people without access to affordable care will not be penalized."
Carney's answers, to this point, appeared to indicate a possible willingness to consider the rollout in exempting some people from the individual mandate, but his response to Major Garrett's followup also indicated the possibility that it won't be considered.
"You are saying, when you mentioned other factors, that this website issue could fall into that category sometime in the future?" Garrett asked.
"I am simply explaining to you what the law says," Carney said, a disclaimer that insulates him from announcing new policy.
"Let's put it this way," he continued, "if you do not have access to affordable insurance, you will not be penalized for not buying affordable insurance."
Carney reiterated the example of the Medicaid expansion, but then added "The Affordable Care Act is not a website. The issue is, do you have access to affordable health insurance? The individual responsibility provision is there for those individuals who, even though they have access to affordable health insurance, do not purchase it, and are therefore held responsible for that. The law addresses that as written."
Garret tried for some more clarity, asking "Is it correct to say that the administration is looking into flexibility as far as the individual mandate? Because the enrollment has become more complicated?"
"Whatever conclusions you draw , I think you can draw them," Carney replied. "It is clear that if people do not have access to affordable health insurance, then you will not be asked to pay a penalty because you have not purchased it. We are focused on making sure that millions of Americans in every state across the country do have access."
Carney's answers seem contradictory and evasive, and to some extent, they are, but having listened to thousands of such responses, and knowing the issues involved here, it seems to m that Carney is hedging on two possible outcomes. If the rollout of the website is smoothed out in fairly short order, then the administration can leave things as they are, and contend that people did have sufficient access. If the problems persist, then they can establish a process whereby people can apply for exemption on a case-by-case basis, so that people in states with successful state-based exchanges might be charged the penalty, while those on the federal exchange might not. In practice, though, they would probably grant the exemption to anyone who asked for it.
Either way, Carney appears to be reserving the right for the administration to consider, or not consider, the enrollment issues at its own discretion. The prospect of collecting fines from the mandate isn't really what's important to the success of the law, its incentive to enroll is.
Here's the exchange, via C-Span:
Have a tip we should know? tips@mediaite.com