Five Most Insane Takeaways From Bombshell Report on Trump's Alleged Affair With Playboy Model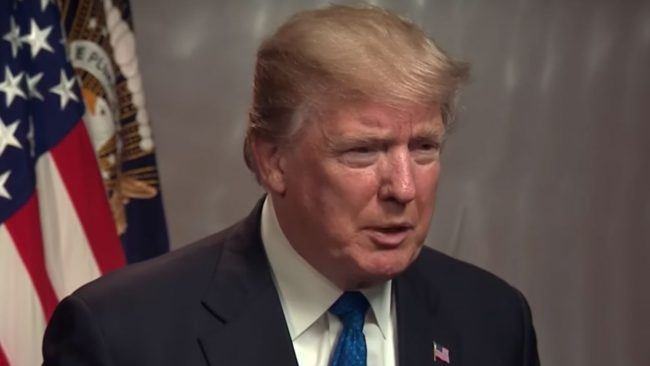 The New Yorker's Ronan Farrow has electrified the media world with a new investigative report, this one about President Trump's extramarital affair with Playboy model Karen McDougal.
According to the report, Trump met McDougal at the Playboy Mansion in 2006, just a few months after the birth of his son, Barron. The two launched into an affair that lasted for months, and McDougal says that not only did the president try to pay her for having sex with him, but she also provided details on how Trump used an elaborate system to keep his affairs secret.
The report provides a number of shocking details, and Farrow says some of them might have considerable implications for national security. As such, here are five of the most interesting parts of Trump's alleged fling with the former Playmate of the Year.
1. National Enquirer Tried to Cover Up the Story
Shortly before the 2016 election ended, the National Enquirer's publishing agency paid a large sum of money for exclusive rights to the story of Trump's affair with McDougal. However, they chose not to run it in the end, and McDougal had trouble telling Farrow very much for fear of breaching her contract with them.
On November 4, 2016, four days before the election, the Wall Street Journal reported that American Media, Inc., the publisher of the National Enquirer, had paid a hundred and fifty thousand dollars for exclusive rights to McDougal's story, which it never ran. Purchasing a story in order to bury it is a practice that many in the tabloid industry call "catch and kill." This is a favorite tactic of the C.E.O. and chairman of A.M.I., David Pecker, who describes the President as "a personal friend."
Trump has a close relationship with the National Enquirer, having used the tabloid to smear his enemies or use it for his own ends. Trump is also chummy with the AMI chairman and CEO David Pecker, who has previously denied killing stories to help out the president.
2. McDougal's Experience Echoes Stormy Daniels and Summer Zervos
Trump's reported use of hotel rendezvous, secret payoffs and unscrupulous legal arrangements bears resemblance to his alleged escapades with Stormy Daniels and Summer Zervos. The porn star claims that Trump had a fling with her for months, and Zervos has accused Trump of sexual misconduct over an encounter the two of them had after she previously competed on The Apprentice.
McDougal's account is consistent with other descriptions of Trump's behavior. Last month, In Touch Weekly published an interview conducted in 2011 with Stephanie Clifford in which she revealed that during a relationship with Trump she met him for dinner at a bungalow at the Beverly Hills Hotel, where Trump insisted they watch "Shark Week" on the Discovery Channel. Summer Zervos, a former contestant on "The Apprentice," alleged that Trump assaulted her at a private dinner meeting, in December of 2007, at a bungalow at the Beverly Hills Hotel. Trump, Zervos has claimed, kissed her, groped her breast, and suggested that they lie down to "watch some telly-telly." After Zervos rebuffed Trump's advances, she said that he "began thrusting his genitals" against her. (Zervos recently sued Trump for defamation after he denied her account.) All three women say that they were escorted to a bungalow at the hotel by a Trump bodyguard, whom two of the women have identified as Keith Schiller.
Trump's personal attorney Michael Cohen recently admitted to giving Daniels a large payout before the 2016 election ended, and she is taking this to mean that her non-disclosure agreement with him has been voided.
3. Trump's Comments About the "Big Black Dick"
…You're better off just reading this for yourself.
On the night of the Miss Universe pageant McDougal attended, McDougal and a friend rode with Trump in his limousine and the friend mentioned a relationship she had had with an African-American man. According to multiple sources, Trump remarked that the friend liked "the big black dick" and began commenting on her attractiveness and breast size. The interactions angered the friend and deeply offended McDougal.
4. McDougal Says Her Contract With AMI "Took My Rights Away"
When McDougal's acquaintance informed The New Yorker about her affair with Trump, he said that she voluntarily entered her contract with American Media, though it was an exploitative process. The model herself said that she regretted selling the rights to her story, and that she was worried for a long time about how much blowback and legal trouble she'd receive if she came forward.
McDougal, in her first on-the-record comments about A.M.I.'s handling of her story, declined to discuss the details of her relationship with Trump, for fear of violating the agreement she reached with the company. She did say, however, that she regretted signing the contract. "It took my rights away," McDougal told me. "At this point I feel I can't talk about anything without getting into trouble, because I don't know what I'm allowed to talk about. I'm afraid to even mention his name."
From later in the article:
McDougal, who says she is a Republican, told me that she was reluctant at first to tell her story, because she feared that other Trump supporters might accuse her of fabricating it, or might even harm her or her family.
5. "Leverage" on Trump
Several of McDougal's associates have affirmed her concerns that dirty stories like hers could possibly be used as blackmail against the president. This factored into her decision to speak out despite concerns about her contract with AMI.
Several people close to McDougal argued that such untold stories could be used as leverage against the President. "I'm sixty-two years old," Crawford said. "I know how the world goes round." Without commenting on Trump specifically, McDougal conceded that she had a growing awareness of the broader implications of the President's situation. "Someone in a high position that controls our country, if they can influence him," she said, "it's a big deal."
[image via screengrab]
— —
>> Follow Ken Meyer (@KenMeyer91) on Twitter
Have a tip we should know? [email protected]