Donald Trump Wonders Out Loud: 'Why Didn't the National Enquirer Get the Pulitzer Prize?'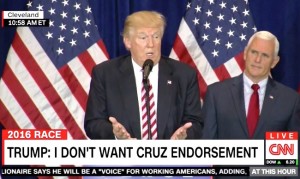 Speaking Friday morning alongside his Vice Presidential candidate Mike Pence, Republican nominee Donald Trump told the press about his take on several National Enquirer stories, a sticking point of controversy that has dogged his campaign in the past.
In May, the real estate mogul worked himself into a bit of trouble when he implied that Raphael Cruz, the father of Texas Senator Ted Boos Cruz, was involved in the assassination of President Kennedy. The assertions came from a cover story in the well-known tabloid, and Trump said at the time, "His father was with Lee Harvey Oswald prior to Oswald's being — you know, shot. I mean, the whole thing is ridiculous."
The issue surfaced Friday in light of the fact that Cruz's refusal to officially endorse his party's nominee came largely from the fact that Trump has disrespected his family. He said Friday:
"This was a magazine that, in many respects, is respected. They got OJ [Simpson], they got [John] Edwards, they got this. If that was The New York Times, they would have gotten Pultizers for their reporting. I've always said, 'Why didn't the National Enquirer get the Pulitzer surprise for Edwards? And OJ Simpson? And all of these things?"
Trump stressed that the National Enquirer, "does have credibility," referencing the ways in which the tabloid first broke the news of John Edwards' secret love child in December of 2007 and the subsequent cover-up of the one time Democratic candidate for President.
Watch the above clip from CNN.
—
[image via screengrab]
Have a tip we should know? tips@mediaite.com