FLASHBACK: LGBT Activists Flipped Off Reagan's White House Portrait in 2012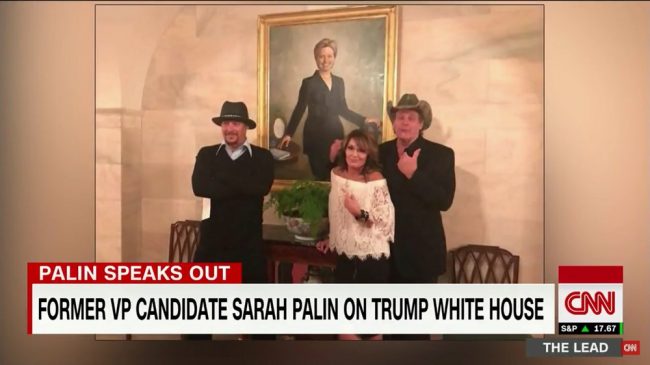 Liberal commentators predictably hammered Sarah Palin, Ted Nugent, and Kid Rock over their trolling photo in front of Hillary Clinton's White House portrait on Wednesday.
The left's reaction on Twitter to the dinner guests of President Donald Trump varied from a lecturing tone to straight fire-breathing.
Doesn't matter what the political party is, it's the White House, not a rally, and it's an official portrait, not a cardboard cutout.

— Maggie Haberman (@maggieNYT) April 20, 2017
Having been in that hall and felt the weight of history that the White House stores on every wall-in every piece of furniture, I'm repulsed. https://t.co/lR96ZZF9Xu

— Joy Reid (@JoyAnnReid) April 20, 2017
Take your fucking hats off https://t.co/elt5iatojm

— Justin Miller (@justinjm1) April 20, 2017

CNN's Ana Navarro asserted on Friday that the trio's pose was "immature, childish, foolish, and to be expected from that crowd."
The pundit warned that "one day, there's going to be a picture of Melania Trump…and a picture of Donald Trump hanging on those walls; and folks are going to go and stick their tongue out at it. And people are going to say, well, but do you remember when Sarah Palin posed in front of Hillary Clinton, making fun of her?"
Navarro also underlined that "there's this…gravitas to the White House. There's this respect for the place. There's this respect for the office."
Certainly, the three entertainers are open for criticism for their carefree attitude in the historical residence. However, they were not the first to indulge in such raffishness. Surprise, surprise, it was leftist activists who set the precedent, and they did much more than "stick their tongue" at an official White House portrait.
Back in June 2012, then-President Barack Obama held the first-ever gay pride event at the White House. Philadelphia magazine reported at the time that two of the invited guests for the reception — Matthew Hart and Zoe Strauss — shamelessly made their feelings known about former President Ronald Reagan by flipping off his portrait.
Obama's WH guests stand in front of Reagan portrait flipping him the bird but Libs are in a frenzy over Sarah Palin posing in front of HC ? pic.twitter.com/8vv9w3Hvn6

— KP (@Krisp_y) April 20, 2017
Hart maintained a defiant attitude in his interview with the magazine:
"Yeah, fuck Reagan," reiterates Hart one week after the reception. "Ronald Reagan has blood on his hands. The man was in the White House as AIDS exploded, and he was happy to see plenty of gay men and queer people die. He was a murderous fool, and I have no problem saying so. Don't invite me back. I don't care."
To their credit, the Obama administration issued a statement condemning Hart and Strauss's vulgar conduct: "We certainly expect that all attendees conduct themselves in a respectful manner….These individuals clearly did not. Behavior like this doesn't belong anywhere, least of all in the White House."
Nugent admitted to the New York Times on Thursday that someone had initially suggested that they flip off the painting, but he "politely declined." Though the rocker showed no such restraint during the 2016 presidential campaign, at least he knew that the White House was not the place for it.
[image via screengrab]
This is an opinion piece. The views expressed in this article are those of just the author.