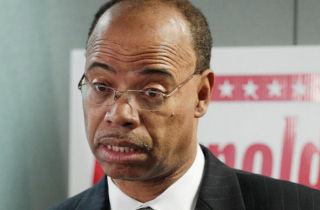 A disgraced former U.S. congressman was arrested in Zimbabwe yesterday for, among other charges, possessing illegal pornography. While all pornography is banned in Zimbabwe, the charges against Mel Reynolds (D-IL) are so eye-popping to the point where they might even be made up by Zimbabwean authorities: the state-owned Herald reports that the government accuses Reynolds of shooting "more than 100 pornographic videos and a further 2 000 nude pictures while he was in the company of at least 10 women including famous models."
For those who don't remember, Reynolds, a former Democratic rising star, resigned from the House in 1996 after being convicted of 12 counts of statutory rape, solicitation of child pornography and obstruction of justice.
While records clearly state that Reynolds is a rip-roarin' inappropriate sex locomotive (seriously, look at the details of his actions leading up to his arrest!), other factors play into his arrest: Zimbabwean authorities have also charged Reynolds with overstaying his visa by two months, as well as racking up $24,500 in unpaid hotel fees. Naturally, everyone is focusing on the sex part.
Reynolds, a former Rhodes scholar who currently lives in Zimbabwe as a "champion of U.S. investment in Africa," has pled not guilty to the charges against him. His lawyer told Reuters that he expects his client to only receive a fine, seeing as Reynolds was law-abiding enough not to distribute his thousands of pornos through Zimbabwe.
(Fun fact: Reynold's sex scandal inadvertently kickstarted Barack Obama's political career. This is 100% true.)
[h/t Reddit]
[Image via AP Photo/M. Spencer Green]
— —
>> Follow Tina Nguyen (@Tina_Nguyen) on Twitter
Have a tip we should know? tips@mediaite.com