Following Trump Endorsement, Falwell's Brother Tweets 'Don't Let Media Tell You Who to Vote For'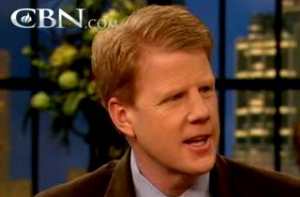 Today, following an announcement that a big endorsement was coming, religious leader and president of Liberty University Jerry Falwell, Jr., spoke out in favor of Donald Trump for president. Not long after that, his lesser-known brother, Jonathan Falwell, tweeted a few not-so-cryptic messages.
The pastor of Thomas Road Baptist Church in Lynchburg, Virginia, told his 31,000 Twitter followers  to think for themselves when it comes time to vote.
Christian voters-don't let media tell you who to vote for. Choose person who most closely aligns with your beliefs, despite media or polls.

— Jonathan Falwell (@jonathanfalwell) January 26, 2016
Biblical truths shouldn't be shelved just because you're in a voting booth.

— Jonathan Falwell (@jonathanfalwell) January 26, 2016
He has tweeted frequently about American politics in the past, musing on what the outcome would be if candidate followed "Ronald Reagan's 11th Commandment," which is that "Thou shalt not speak ill of any fellow Republican." He also tweeted recently that arrogance isn't a desirable personality trait, but I could be reading too far into that one. 
Although Jerry Falwell, Jr.'s endorsement of Trump makes him the official Evangelical candidate, there have been murmurs among religious communities that the billionaire's Christianity is fake. His commitment to the religious right's stickiest voting topics has also been called into question. 
Pro-life Women Sound the Alarm: Donald Trump is Unacceptable https://t.co/HzreQr9hXv #prolife

— Susan B Anthony List (@SBAList) January 26, 2016
Jeb Bush — who follows Jonathan Falwell on the popular micro-blogging site — retweeted the above message today, adding the comment, "Absolutely correct."
As religious conservatives defect from the Trump camp left and right, the candidate himself doesn't seem worried. Like he said himself, he could shoot someone on Fifth Avenue and not lose any voters, so why would being a faux-Christian be any different?
[image via screengrab]
For more from Lindsey, follow her on Twitter.
Have a tip we should know? tips@mediaite.com