Forget Voter Fraud And Hurricanes, How Will Video Games Impact Voter Turnout?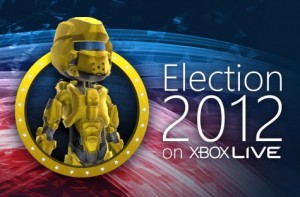 A hurricane has left the east coast devastated, and with a nor'easter slowly approaching, results from New York and New Jersey could potentially be delayed. Voter fraud is an alarming concern for both major parties. But voter turnout is crucial, and one tiny little factor may get in the way of that today: Halo 4. The latest installment in the popular video game franchise is out today, and if this FoxNews.com piece is any indication, there are real concerns that it could have an impact on turnout among younger voters.
RELATED: Obama Beats Romney In Xbox Live Poll Because Video Gamers Have Political Opinions Too
It's interesting, to say the least, that a big Xbox game would be released on election day, since Microsoft partnered with YouGov and NBC News this year to engage users more on the election. However, a spokesperson for Microsoft has assured the suddenly-alarmed electorate that they have been pushing a tie-in get-out-the-vote campaign with their promotion of Halo 4, and when Xbox Live users log in today, "they will see a reminder to vote."
One public relations manager who spoke to Fox News expected only three out of every eight gamers who pick up the game today to vote. A poll conducted by gaming site IGN found that over half of registered voters would rather wait in line to buy Halo 4 than wait in line to go vote.
Gaming analyst Jon Peddie didn't mince words.
"The idiots who can't get a date and look at the women's breasts in the games will definitely find Halo 4 more interesting than something that requires thinking."
However, he predicted that overall, the majority of young people will turn out to the polls. But when you go out to vote today, just remember there are people who decided not to vote and blow up evil aliens instead.
[Image via]
—–
Follow Josh Feldman on Twitter: @feldmaniac
Have a tip we should know? [email protected]
Josh Feldman - Senior Editor