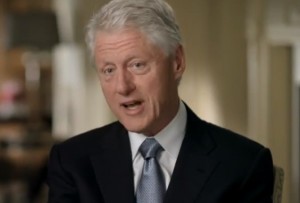 President Obama's reelection campaign is bringing out the big guns, releasing an ad Thursday morning, entitled "Clear Choice," that features former President Bill Clinton making a simple case for voters that the election between Obama and Mitt Romney represents "a clear choice."
The spot relies heavily on President Clinton's charm and charisma, but also references the progress President Obama has made, urging voters to "keep going with his plan."
"Clear Choice" stands out because it eschews the jump-cut bells and whistles of most campaign ads, and simply features President Clinton speaking to camera, a canny recognition of his powerful persona.
"This election to me is about which candidate is more likely to return us to full employment," Clinton says. "This is a clear choice. The Republican plan is to cut more taxes on upper income people and go back to deregulation. That's what got us in trouble in the first place. President Obama has a plan to rebuild America from the ground up, investing in innovation, education and job training. It only works if there is a strong middle class. That's what happened when I was president. We need to keep going with his plan."
The White House and the Obama campaign have long wanted to turn this into a "choice" election, rather than a referendum on the state of the economy, and the selection of Paul Ryan as Mitt Romney's running mate seems to have accomplished that for them. The Romney/Ryan ticket is mired in the aftermath of Rep. Todd Akin's "legitimate rape" comments, but Ryan's signature budget plan ensures that the conversation will always return to that choice.
According to the Obama campaign's press release, "Clear Choice" will air in New Hampshire, Virginia, North Carolina, Florida, Ohio, Iowa, Colorado, and Nevada.
Here's the ad, from Obama For America:
Follow Tommy Christopher (@TommyXtopher) on Twitter.
Have a tip we should know? [email protected]