Former Wikileaks Employee Accuses Julian Assange Of Causing His Cat's 'Psychosis'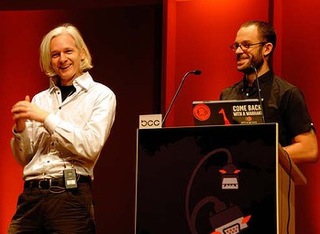 The hits just keep on coming for affable paranoid mad scientist Julian Assange. He's been accused of putting countless informants' lives on the line by releasing the Afghan War Diaries. He's been accused of an act fitting the Swedish legal definition of the crime of rape. And now, a former employee is accusing him of abusing his cat in a "battle for dominance."
That employee's identity will come as no surprise to those that have been following the high-octane drama that is the Wikileaks: Daniel Domscheit-Berg, formerly known as Daniel Schmitt, one of Wikileaks' top workers before his very public falling out with Assange. Domscheit-Berg, who has also launched a competing site called Open Leaks, is now releasing a book about his time and disagreements with Assange. According to the Associate Foreign Press, excerpts from Domscheit-Berg's book, Inside WikiLeaks: My Time with Julian Assange at the World's Most Dangerous Website, accuse Assange of abusing not only him, but his cat:
"Julian was constantly battling for dominance, even with my tomcat Herr Schmitt," Domscheit-Berg says in his book "Inside WikiLeaks: My Time with Julian Assange at the World's Most Dangerous Website."

"Ever since Julian lived with me in Wiesbaden he (the cat) has suffered from psychosis. Julian would constantly attack the animal. He would spread out his fingers like a fork and grab the cat's throat." The "mad Australian" did not always come off best during his stay in 2009, however, with Herr Schmitt sometimes managing to "dispatch Julian with a quick swipe of the paw." "It must have been a nightmare for the tomcat," he said in the German-language version of the book, due to be published in more than a dozen countries from Friday.
As crazy as the claims on Assange that rendered him under house arrest may be, tearing apart a poor cat's fingers may be the most outrageous thing he has been accused of since the time he was arrested for potentially hacking into NASA's computer database. And this is only a teaser for Domscheit-Berg's upcoming tome– who knows what other juicy, insane tidbits of Assange's life may be leaked in the body of the texted. Those dying to hear the latest on Assange must hope that Wikileaks will release an "advanced copy" of the text before release.
Have a tip we should know? tips@mediaite.com