Fox & Friends, Daily Caller Falsely Report '3 Black Teens' Arrested in Chris Lane Murder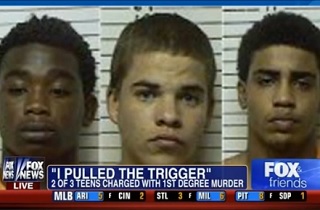 The senseless, infuriating murder of Australian Chris Lane has drawn comparisons, by some media outlets, to the killing of Trayvon Martin. Fox and Friends and The Daily Caller, for example, have each posited the Lane killing as illustrating some sort of "double standard" by black leaders like Rev. Al Sharpton, Rev. Jesse Jackson, and President Barack Obama, but in the process, each of them falsely reported that Lane was shot by "three black teens," when one of the suspects is clearly a white male. A Duncan, Oklahoma police source confirms, to Mediaite, that 17 year-old suspect Michael Jones is, indeed, a white male.
On Wednesday morning, Fox and Friends aired a segment in which they ostentatiously wondered why Revs. Sharpton and Jackson "haven't come forward and said anything," and even though they displayed a photo of the three suspects, which clearly showed that one of them is a white male, they quoted an Allen West tweet that said "Three black teens shoot white jogger."
The Daily Caller actually improved on F&F. Initially, they ran a photo of the wrong Michael Jones, and issued this "correction":
This, of course, changes everything. Edwards and Luna are being charged with first-degree murder, whereas Jones is charged with "using a vehicle to facilitate the discharge of a weapon and accessory after the fact of murder in the first degree."

There's your angle, Rev. Al. The one with the lightest skin got the lightest charge. The one who looks the least like Obama will get the least punishment. Let the racebaiting begin.
Here's the photo The Daily Caller originally ran, with the wrong Michael Jones: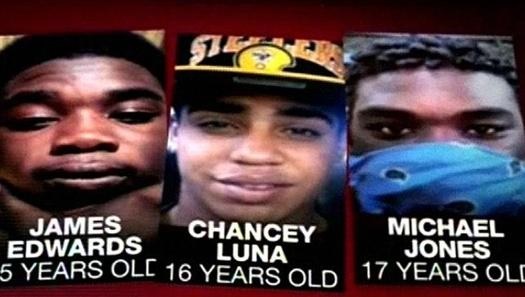 A Duncan police source confirmed to Mediaite, Wednesday morning, that 17 year-old Michael Jones is not "the one with the lightest skin," he is a white male. It is true that 15 year-old James Edwards and 16 year-old Chancey Luna have been charged, as adults, with first-degree murder, while Jones is charged as an accessory after the fact, but Jones is also reported to have said "I pulled the trigger" (see update) in court Tuesday:
As the boys appeared in an Oklahoma courtroom, a 17-year-old blurted out, "I pulled the trigger," then wept after a judge told him that Tuesday's hearing wasn't the time or place to sort out the facts of the case.
The three teens allegedly shot and killed Chris Lane "for the fun of it," as infuriating a motive as there is, but so far, there is no indication that race played a role in the selection of the victim, and unlike the Trayvon Martin killing, the alleged perpetrators in this crime were almost immediately arrested and charged. Like other crimes that have been posited as "double standards," there is no factual basis for comparison, and no one has explained what, exactly, they would expect Rev. Al to say.
What there is is a chance to continue the Zimmerman defense team's contention that it is reasonable to profile young black men, an opportunity to present young black men as products of an inherently violent culture. That one of the suspects is white is a complicating factor that some, it appears, are choosing to ignore.
To be clear, their premise would be equally false if all three suspects were black, but the fact that they've chosen to ignore Michael Jones' race indicates a commitment to that premise no matter what the facts say. The oldest of the three suspects, who declared in open court that he "pulled the trigger," is a white male, so perhaps these conservative outlets ought to be praising Al Sharpton for not coming out and saying that the lesson here is for black kids not to hang around with white kids. If he did, he would be rightly condemned, but such a declaration would be no more absurd than the idea that he should weigh in on a tragedy that, thus far, appears to be taking as just a course as is possible. There's definitely something wrong with the people who killed Chris Lane, but it's not the color of their skin.
Update: The Daily Caller writer in question lamely objects "Note to @tommyxtopher: If you see a number in this headline, you need to visit an optometrist and/or a shrink," so before he changes it, here's the quote from the body of his article:
As the family of an Australian baseball player gunned down in Oklahoma mourns his death, police said today that the college athlete was targeted by three black teenagers who simply "wanted to see someone die."
He was quoting a WorldNetDaily article, which has since been stealth-corrected to remove the part they made up, while the Daily Caller article has not.
Update: While several outlets have quoted Jones as saying "I pulled the trigger" in court, The Duncan Banner gives this more logical account of the proceeding:
Jones was brought in last and told Herberger, "I didn't pull the trigger." The judge immediately cut him off, saying it was not the time to make such statements because the hearing was only to determine bond.
I've contacted several sources to confirm the quote, but haven't received a response as yet.
Update: Thursday morning, District Attorney Jason Hicks confirmed to Mediaite that Jones said "I didn't pull the trigger."
[photo via screengrab]
Have a tip we should know? tips@mediaite.com