Media That Routinely Called Zimmerman 'White' Avoids Describing Christopher Lane's Killers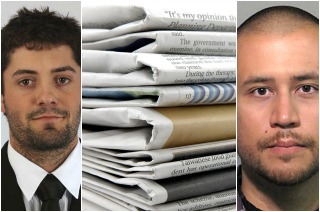 The murder of Australian national Christopher Lane, a baseball player in his 20s, who was merely out for a jog when he was gunned down by three Oklahoma teens has shocked the country. The wantonness and senselessness of the act of violence compounded by one of the killer's statements to police: "We were bored and didn't have anything to do, so we decided to kill somebody." But the media has predictably made this story about themselves, albeit inadvertently. A media that arguably fostered the creation of a racial angle in the killing of Trayvon Martin by George Zimmerman from the minute it became a national story has contorted itself in tortured ways to avoid describing the suspects in Lane's murder.

"Three boys, ages 15, 16, and 17, are in custody and face a court appearance Tuesday afternoon," The Huffington Post reported when the story broke.
CBS News issued a similar report describing the suspects merely as "teens" who had posted on Facebook that they planned to kill two people in as many hours but were apprehended before they could carry out their plot.
"Police say Lane was on one of his regular runs through what's been described as the affluent town of Duncan on Friday at about 3 p.m. local time when a car carrying three teenagers drove up behind him," CNN.com reported. "One local newspaper, under mug shots of the three suspects, aged 15, 16 and 17, ran the headline: "Faces of Evil: The teens American police say shot our star."
CNN.com did not publish those mug shots in their story about the teens facing adult murder charges.
Of course, two of the three the teens' African-American backgrounds are irrelevant to the story. As Mediaite's Tommy Christopher has reported, some conservative media outlets were eager to allege that the three accused teens are black, somehow justifying the insistence among some that civil rights activists speak out about the killing. At the very least, their backgrounds are not nearly as relevant to this story as are the allegations of their disturbing lack of regard for human life. Furthermore, the conspicuous lack of reporting on the suspects' descriptions would be entirely excusable but for the fact that the media is content to create racial narratives when it serves to elevate the story.
The slaying of Tryavon Martin on February 26, 2012, did not raise the ire of the media outside of a few select outlets until weeks later. Then, the national media took up as a crusade the cause of forcing Sanford, Florida, police to charge and arrest Zimmerman.
Prior to the release of Zimmerman's name, generic reports described the killing as a tragic encounter with a "neighborhood watch leader." Once his name was revealed to the press, the story became sinister tale of racial discrimination leading to murder.
Reporting on a news conference held by Martin's family and attorney, Benjamin Crump, on March 8, 2012, The Orlando Sentinel was first to identify a racial element to the case.
"Zimmerman, who is white, had spotted Trayvon, who is black, in his gated community about 7:15 p.m. and called Sanford police on a non-emergency number, saying he'd just seen a suspicious person, both sides agreed," The Sentinel reported. "Martin was an invited guest, visiting his father's fiancée and her family for a few days, they said. He had visited before, and it was a community with black and minority residents."
"The family of 17-year-old Trayvon Martin is demanding answers after police have yet to release 911 tapes or make an arrest nearly one month after the unarmed African-American teenager was shot and killed by a white neighborhood watch captain in a gated Florida community," an ABC News report on the following day began.
"According to CNN affiliate WFTV, Zimmerman, who is white, described Martin to a dispatcher as a suspicious black man," CNN reported in the fourth sentence of their March 13, 2012, report on the killing of Martin.
"Family of slain black Florida teen hear 911 calls," the March 16 Associated Press headline read.
"The first call before a black teenager was fatally shot in Florida's Retreat at Twin Lakes Townhomes came from 28-year-old George Zimmerman, a white neighborhood watch captain who wanted to report a suspicious man walking through the gated community," that AP report opened.
AP's Mike Schneider went on to survey residents of Sanford and compiled their thoughts on the racial nature of this murder.
Several Sanford residents who spoke to The Associated Press Friday said they think there would have been an arrest already if the shooter had been black and the deceased had been white. They said blacks and whites in this city of 53,000 residents were pretty much in agreement that an injustice had been done with no one arrested, and that there was no racial divide in how the case is being perceived. The city is 57 percent white and 30 percent black.
This, though the AP printed quotes from local residents who insisted that they saw no racial angle in the police's decision not to charge Zimmerman with a crime on the night he was taken in for questioning by police.
"Florida students rally to arrest white neighborhood watch leader," Schneider's March 19 report on the Martin killing was headlined. Schneider cites activism by Rev. Al Sharpton – who had been utilizing his MSNBC program to shed light on what he considered a racial injustice in the way this case had been pursued by Sanford police for weeks – as the impetus for reporting on the racial angle in the Martin murder.
The media's decision to reveal the races of the principal actors in the coverage of Trayvon Martin's killing and their efforts to conceal the descriptions of Christopher Lane's murderers is instructive only in how the press identifies narratives. The fact is that the race of Lane's killers is as relevant as was the race of Martin's killer, which is to say not that relevant at all. The key difference is as simple as the fact that one narrative attracts attention, e.g. "sells," while the other does not.
> >Follow Noah Rothman (@NoahCRothman) on Twitter
Have a tip we should know? tips@mediaite.com