Fox Host on Tweeting Fake Photo: 'Mistake' but 'Everything I Said Was Right'
Fox Business Network host Charles Payne admitted to tweeting a fake photo — one that many said was racist in nature — to criticize this weekend's #BlackBrunchNYC protesters. And Monday evening on his show, Making Money, he addressed the issue and confessed to his mistake, but insisted that his overall point still stands.
Here's the tweet in question, which has since been deleted: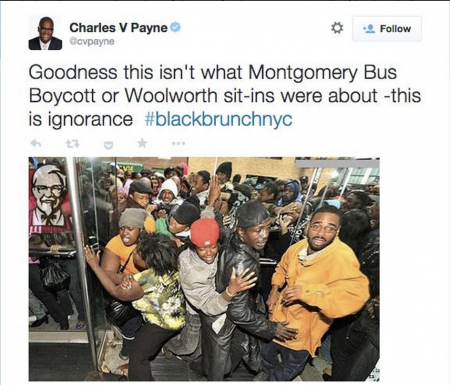 The photo Payne tweeted originally appeared five years ago in the Detroit News and showed a local rush to pick up federal housing assistance forms.
And the KFC logo? That was Photoshopped. Compare what Payne tweeted to the actual photo, courtesy of Detroit News: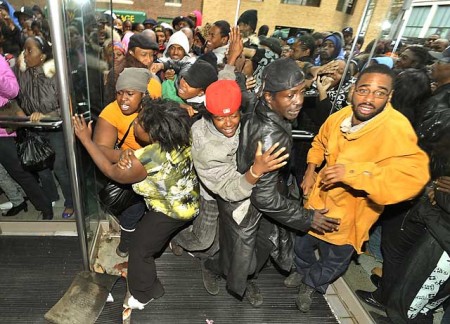 Nevertheless, Payne initially denied that the photo was Photoshopped, and claimed the picture was "real but not from today":
.@QuarlesRobin picture isn't Photoshop just different event/time -ride train or walk down street if you want to see perpetuating sterotypes

— Charles V Payne (@cvpayne) January 5, 2015
.@EdAsante77 @ImitationJordan picture is real not from today..focus needs to shift to real internal issues -there is no outside salvation

— Charles V Payne (@cvpayne) January 5, 2015
Ultimately, he addressed the issue on his show. On the protests themselves, he said any comparisons to Rosa Parks are "preposterous," adding that the demonstrations were not about black lives but instead about "anarchy." And when he addressed the questionable tweet: "Listen, it was a mistake on my part, the picture, but everything I said was right."
Watch the video below, via Fox Business Network:
[h/t TPM]
[Featured image via FBN/screengrab]
— —
>>Follow Andrew Desiderio (@forza_desiderio) on Twitter
Have a tip we should know? tips@mediaite.com