Fox News Disputes Dean's Charges, But Admits Online "Breakdown" In Sherrod Story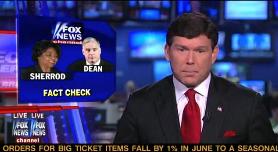 The most important story on cable news last week has continued into this week – Fox News was back talking about the Shirley Sherrod saga on TV and online.
Bret Baier responded with video evidence to Howard Dean's latest charges, while FNC admitted there had been an online "breakdown" in the publication of a story about Sherrod before it was announced she resigned.
In a "fact check" segment on Special Report last night, Baier responded to what Dean said on MSNBC's The Ed Show by visually displaying what we've been saying for a week – the out-of-context clip didn't air on Fox News until Bill O'Reilly's 8pmET show. "Not a single frame of that video hit the air all day," he said, while the entire day's programming played in fast forward.
Unfortunately for Baier, he's already behind – Dean has moved on from this initial charge and expanded his criticism to how O'Reilly and Sean Hannity covered the story Monday night and the rest of the week. This cannot be disputed with some video evidence.
Meanwhile the one Fox News entity that did touch the Breitbart video before Sherrod's resignation was FoxNews.com – a point some have continued to focus on. Politico talked to Fox News SVP Michael Clemente, and he did admit a "breakdown" that led to the story's publication:
But FoxNews.com did run a story about the existence of the video, titled "Video Shows USDA Official Saying She Didn't Give 'Full Force' of Help to White Farmer" at 5:58 p.m. on Monday, an hour before the Agriculture Department announced Sherrod's resignation. And Wednesday, Clemente told POLITICO that was a mistake.

"There was a breakdown in the system, and it is being addressed," he said. "But it must say something about the power of Fox, that a week after she resigned, we're still talking about this."
According to Sherrod's timeline, 5:58pmET is still after she was forced to resign (she had to do it "before Glenn Beck" at 5pmET). But this was an admission of a mistake nonetheless.
Here's the Baier segment (via Johnny Dollar):


—–
» Follow Steve Krakauer on Twitter
Have a tip we should know? tips@mediaite.com