If Election Were Held Today Obama Would Lose To Huckabee And Romney But Trump Palin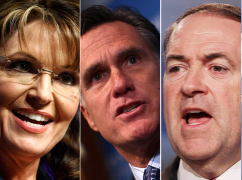 Brace yourself. The next two years is going to be filled with polls such as the hypothetical one CNN revealed today, which may or may not signify anything more than the nations' insatiable love of numbers (if nothing else, Harry Reid's Nevada victory was the most recent reminder that polls are only very tenuously tied to voter turnout).
CNN marked the beginning of the 2012 presidential election season by surveying how President Obama would fare against the (presumed) top GOP candidates if the election were held today. Answer: badly…unless Sarah Palin is the candidate.
In a possible general election showdown, Obama leads Palin 52-44 percent among all registered voters.

"Looking ahead to 2012, it may be too early to count Barack Obama out, particularly if Sarah Palin is his opponent," said CNN Polling Director Keating Holland. "The former Alaska governor gets a lot of attention, but she is in third place when Republicans are asked to pick a presidential nominee, and in a hypothetical matchup with Obama she is arguably the weakest candidate of the top-tier GOP hopefuls."

In a hypothetical 2012 matchup, Huckabee leads Obama 52 – 44 percent, while Romney has a 50-45 point advantage, which is within the poll's sampling error. Obama holds a 49-47 percent margin over Gingrich.
Emphasis mine, because I'm going to hazard a guess based on history, the amount that can change in two years, and simple common sense, that it's too early to count Barack Obama out regardless of who he is running against. However if you are looking for further evidence that Palin for President is just a fun and easy talking point a poll like this, taken just days after many of her endorsements won their election bids, is as good an argument as any.
Have a tip we should know? tips@mediaite.com