Trump Lawyer Reportedly Arranged $130K to Porn Star to Buy Silence Over Sex Affair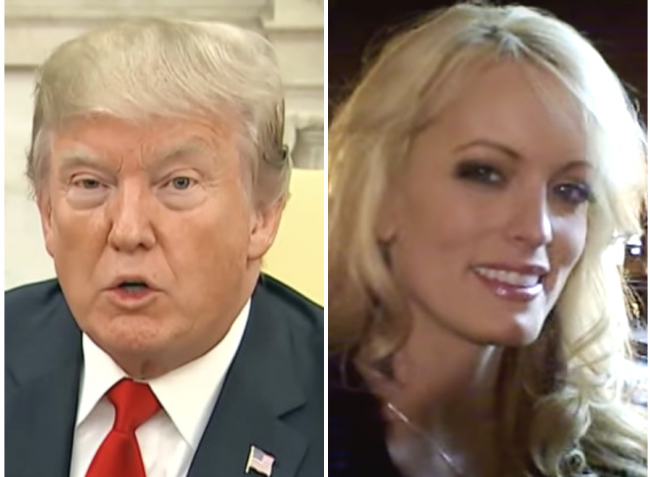 The Wall Street Journal is reporting that Donald Trump's attorney arranged for a $130,000 payment to an adult film star to buy her silence over a sexual encounter she had with Trump.
According to the WSJ, Michael Cohen arranged payment to Stephanie Clifford a month before the 2016 election. Clifford goes by the stage name Stormy Daniels. The affair with Trump allegedly took place in 2006, after Trump married his third wife Melania. According to people familiar with the matter, the encounter happened at a July 2006 Lake Tahoe golf tournament.
Of course, Trump was dealing with numerous accusations of sexual harassment and misconduct prior to the presidential election. Trump denied all of those claims, stating that the women were all lying. Meanwhile, this alleged encounter is believed to be a consensual affair.
Cohen provided a statement to the WSJ in which he said: "President Trump once again vehemently denies any such occurrence as has Ms. Daniels." Cohen sent another statement that was signed by "Stormy Daniels" and said that rumors Trump sent "hush money" to Clifford were "completely false."
Below is an image of that letter, via Ali Vitali:
Cohen also passed along an image of this letter to me, signed from "Stormy Daniels" and dated Jan 10, 2018, denying rumors of hush money from Trump and calling them "completely false." https://t.co/J0taBJZLP5 pic.twitter.com/MX4qgVhyN2

— Ali Vitali (@alivitali) January 12, 2018
The WSJ noted that it previously reported that Clifford was in talks with Good Morning America to talk about Trump in the fall of 2016. It was part of a story about the National Enquirer having paid a former Playboy Playmate $150,000 for her story on an affair she had with Trump. The Enquirer never published that story and instead claimed the woman was paid for fitness articles. The tabloid is known for providing favorable coverage about Trump.
Per the report, at one point, Clifford complained that it was taking too long to receive the promised money and threatened to back out of the deal. At that point, the payment was sent to the client-trust account of Clifford's lawyer, Keith Davidson. Davidson, citing attorney-client privilege, told the WSJ he couldn't comment on the matter. Clifford also has not responded to requests for comment.
[image via screengrab]
—
Follow Justin Baragona on Twitter: @justinbaragona
Have a tip we should know? tips@mediaite.com