Roger Ailes: Obama 'Too Busy Getting The Middle Class To Hate Rich People, Blacks To Hate Whites'
Roger Ailes: Obama 'Trying To Get Everybody To Hate Each Other'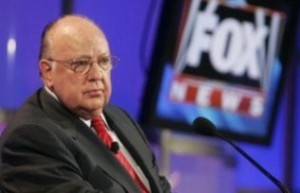 In an interview largely about Fox News, the GOP, and Latino voters, Fox News chief Roger Ailes also added in a criticism of the president. President Obama is trying to get "everybody to hate each other," Ailes told The New Republic's Eliza Gray.
"The president likes to divide people into groups," he said. "He's too busy getting the middle class to hate rich people, blacks to hate whites. He is busy trying to get everybody to hate each other."
When really "we need to get along." Gray herself noted that it's an "unexpected plea" from a man not known for shying away from provocation — yet it "has become an imperative for the conservative movement."
And thus the story delves into the Republican Party's standing with Latino voters and Fox News' place in that issue.
"Hispanics who get on government programs are doing only a little better than they were in the old country," Ailes remarked. "Fox News Latino will show people how opportunities exist, that whenever we are overregulated, or there is too much government, we lose freedom. We lose power. That is, historically, one hundred percent true."
Latino viewers, he added, will find their "traditional American values" echoed on his network — but the obstacle is when it comes to immigration.
"Republicans haven't used the right language," Ailes says. "They keep talking about illegal immigration."

"I think the word 'illegal immigration' is a false name," he continues. "You are talking about two separate issues. One is sovereignty. . . . The media trying to make America feel guilty because we want borders—that, to me, is complete bullshit. Immigration is a separate issue. . . . We should all defend sovereignty, then take a Judeo-Christian approach to immigration. I don't have any problem with a path to citizenship."
You'll recall that Fox News host Sean Hannity recently came out in favor of a pathway to citizenship as well — but, as Gray noted, didn't have the same view on the term "illegal."
Read the full interview over at The New Republic.
Have a tip we should know? [email protected]