Fox's Roginsky Challenges Pro-Trump Bolling Over Taxes: If It Were Clinton, 'You'd Demand' Release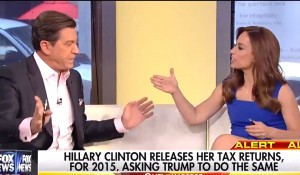 Shortly after news broke that Hillary Clinton released her tax returns, Fox host Eric Bolling did his best to defend Donald Trump's refusal to give Americans the same transparency. Outnumbered co-host Julie Roginsky was not having it.
Trump has consistently defended his decision not to release his tax returns, breaking with 40 years of precedent, by claiming that he is under audit. Newsweek reported that he has produced no proof that he is, in fact, under audit.
There is nothing about an audit that would prevent him from releasing his returns, and the audit pretense provides no cover for him to refuse to release his returns for the years prior to the audit.
"He's only under audit for a year or two, according to him," Roginsky said. "He hasn't been under audit for previous years. He should release those tax returns. Nothing's preventing him."
Bolling, sitting in on Outnumbered as Friday's Hashtag One Lucky Guy, ripped the Clintons for having "always made a lot of money," and then defended Trump's decision to jealously hoard his financial information on the basis that he was extremely wealthy. Because of Trump's massive wealth, older tax returns would have bearing on the years currently under IRS scrutiny — because wealth "multiplies geometrically" from year to year, he said.
Bolling continued to argue that returns weren't complete until the audit was finished; Roginsky repeatedly countered that Trump should release the years before the audit, which are no longer in dispute.
At a loss, Bolling asked, "Do you care what [he made] 15 years ago?"
And it got worse from there.
Watch the exchange above, courtesy of Fox.
—
[image via screengrab]
Sam Reisman (@thericeman) is a staff editor at Mediaite.
Have a tip we should know? tips@mediaite.com