Fraggle Rock Controversy? Texas Viewer Alleges Racial Slur In 80's Puppet Show Re-Run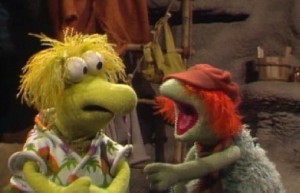 North Texas resident Keith White was watching the 80s TV series Fraggle Rock with his daughter last week when his ears perked up. In the middle of a conversation between two Fraggles — the lovable Jim Henson creations who lived underground — he thought he heard a character refer to another one as an offensive, out-of-date racial slur. "I heard him say 'Jigaboo,'" White told CW 33. "That's what I heard him say." White even rewound the show several times to listen again (hopefully with is daughter out of earshot).
Take a quick listen to the clip (courtesy of FOX 4), see if you hear it, and then read on for the explanation from The Hub TV Network, the station that airs the replays:
The Hub pulled the script from the 1984 episode and the character actually said:
"Well, gee, Gobo, we're sorry."
"Gobo" is the name of the main character.
Go back and listen again, and you'll hear the clip in a totally different way. Hub decided, though, just to avoid this mistake in the future, to edit out Gobo's name from that exchange. The Jim Henson Company, the show's original creator, told CW 33 they, "agree with The Hub's interpretation of the scene and their actions in this matter."
Still, White doesn't seem entirely happy with the outcome, wondering why they'd edit the line out if it wasn't a mistake, or an inside joke. He also, in a beautiful wrap-up of the controversy, points out that Gobo is wearing what appears to be a Jamaican rasta hat in this episode that he doesn't normally wear.
Enjoy the report below, courtesy of CW 33 in North Texas:
(Image credit: DVDActive.com)
Have a tip we should know? tips@mediaite.com