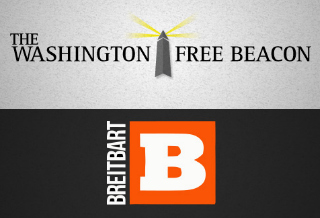 Bravo to the Washington Free Beacon for having a sense of humor. The editors of the conservative publication made a "breaking exclusive" announcement Wednesday that not-so-subtly mocked fellow right-wing website Breitbart.com.
While Breitbart somehow did not get the "exclusive" announcement about its own "global expansion" earlier this week, the Free Beacon came out with its own, entirely satirical version of the same story today. And just in case you didn't get the joke, they linked to The New York Times' story about that other "relatively obscure ultraconservative news outlet" that is planning new global ventures.
"The Washington Free Beacon is taking its anti-Clinton, freedom-loving agenda global, the Free Beacon editors have exclusively learned," the editorial began, with an asterisk leading to the qualifier "Not really." From there, the piece proceeded to announce "Free Beacon Taipei" and "Free Beacon Senkaku Islands" as the first branches to launch early this year, followed by increasingly ridiculous bureaus around the country and the world.
As you can see from the Breitbart home page Wednesday, the site sort of has a thing for so-called "exclusives," which we can only imagine will increase now that they've gone global: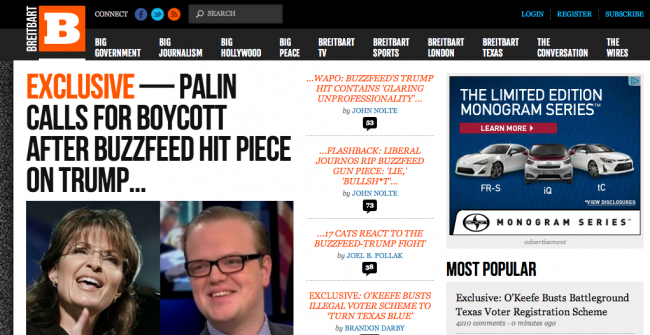 The New York Times reported in its non-exclusive report that Breitbart "hopes to support a nascent European Tea Party before parliamentary elections in May" with its new operation in London and "is eager to combat an emerging 'Turn Texas Blue' movement intended to improve the standing of the Democratic Party" in the Lone Star State.
[photo via screengrab]
— —
>> Follow Matt Wilstein (@TheMattWilstein) on Twitter
Have a tip we should know? tips@mediaite.com