Gallup Poll Finds Young People Support Obama, But Are Less Likely To Turn Out To Vote For Him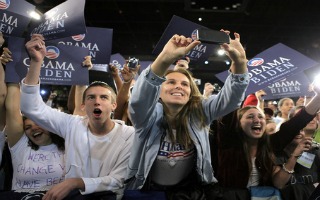 Gallup polling has found that while voters under 30 are prepared to support President Barack Obama in large numbers over former Massachusetts Gov. Mitt Romney in the fall, they are far less likely to be registered voters and may not show up at the polls at all.

RELATED: Young Voters Trending More Republican According To New Poll
President Obama's campaign motivated young voters in 2008 like no presidential campaign in recent memory. He excited young people about politics and many volunteered for his presidential effort before they and their friends headed to the polls in droves to cast their ballots for him. In 2008, exit polling showed Obama won 66 percent of voters aged 18-29. This year, his support among young voters has softened some, but the true danger is in Gallup's findings that many young voters are not motivated enough about Obama's 2012 effort to register to vote much less head to the polls.
Gallup finds that voters aged 18-29 support Obama over Romney by 64 to 29 percent. However, only 60 percent of voters in that age group indicated that they were registered voters. When asked if they believed they were likely to vote in November, only 56 percent of this age group responded affirmatively. Among all other age groups, the likely voter question generates a response in the 80 percent range.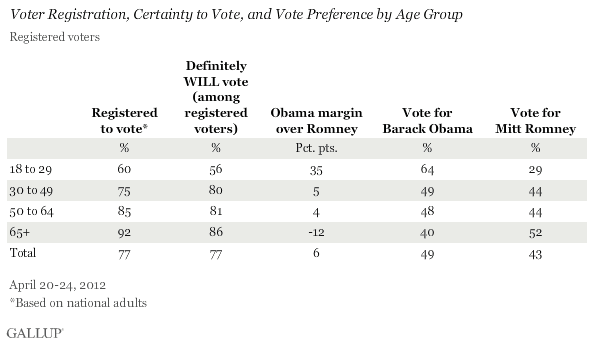 President Obama has made the issue of student loan debt a centerpiece of his campaign in the last month and spent the early part of this week touring colleges in the battleground states of Colorado, Iowa and North Carolina to pitch a plan to push forward an extension of artificially low interest rates on student loans. The President made student loans as focus during his Tuesday night appearance on NBC's Late Night with Jimmy Fallon. His campaign has made students the focus of a voter enthusiasm push in the same way that his campaign made a similar push for female voters in the early part of 2012.
With most pollsters only sampling registered voters and waiting until the summer or even the fall to apply a "likely voter" screen that will provide a more accurate assessment of the general electorate, opinion polls should be taken worth a grain of salt. Once pollsters being to apply that "likely voter" screen, however, there are indications that the bottom could fall out from under Obama's already underwhelming level of support among voters.
h/t ABC News
This article has been edited after its original posting.
Have a tip we should know? tips@mediaite.com