George Will: Trump Is an 'Amateur in Politics' Who Confuses Crowds With Actual Support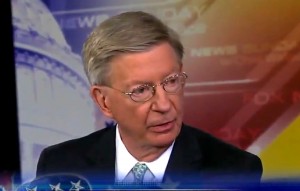 Speaking on Fox News Sunday, columnist George Will said that Donald Trump was an "amateur in politics" who made the mistake of confusing the size of his crowds with actual support from the electorate.
Will said that Trump was not cut out for the general election, highlighting the wide gulf between the votes he had received to snag the GOP nomination and the votes necessary to defeat Hillary Clinton.
He said:
Donald Trump's assumption, clearly, at this point is that running in a primary against 16 opponents is pretty much the same as running in a protracted general election against one, well-funded, tough Democratic machine. That's unlikely because what the Democrats have is a get-out-the-vote mechanism. This is going to be a mobilization election, not a persuasion election. There aren't that many Americans waiting to be persuaded on either side. So if he doesn't have a get-out-the-vote mechanism, what does he have? What he has is crowds. And like a real amateur in politics, he seems to confuse the enthusiasm of the crowds in front of him in the moment in a high school auditorium with the larger electorate. Whereas in fact crowds are definitionally not representative selection of the American people.
Trump has indeed made the size of his crowds one of the cornerstones of his campaign (even though he has repeatedly inflated them).
Will has been an outspoken critic of Trump and of Republicans who have bent to support him. He wrote in the Washington Post in April: "Donald Trump's damage to the Republican Party, although already extensive, has barely begun. Republican quislings will multiply, slinking into support of the most anti-conservative presidential aspirant in their party's history. These collaborationists will render themselves ineligible to participate in the party's reconstruction."
[image via screengrab]
Have a tip we should know? tips@mediaite.com