Gingrich Keeps Hope Alive: If I Am The Nominee, 'Romney and Santorum Will Support Me'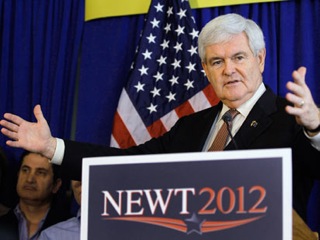 Newt Gingrich has put all his chips in on this game and repeatedly made clear he isn't going anywhere, no matter how slim the chances of him winning are. Perhaps the most bizarre thing about how he is going about campaigning given he barely has any delegates, however, is that he spoke over the weekend with two of his fellow candidates, and came out telling the media they had promised to endorse him if he won.

RELATED: Newt Gingrich Charging Supporters $50 To Take A Photograph With Him
CNN reports that Gingrich spoke to the network about recent secret meetings with both the Mitt Romney and Rick Santorum camps, and told them that "the three of us have a general agreement: we want to beat Barack Obama." "The fact is that we are committed to defeating Barack Obama and we've known each other a long time," he told the network, "And we want to make sure that however this thing comes out in the end that the Republican nominee defeats Barack Obama."
Needless to say, the statement leaves out an important question as to what the other candidates could possibly have to talk about with Gingrich– the same thing they would have to talk about with, say, Rep. Ron Paul: why haven't they dropped out yet? He told a crowd in Wisconsin that, essentially, he is hoping for a brokered convention:
"[Romney] may eventually get to 1,144 delegates. If he does, I will support him just as I would support Rick Santorum because defeating Barack Obama has to be our number one goal," Gingrich said.

"By the same token, I am convinced that if Mitt [Romney] does not get to 1,144 and we end up having a situation where we have an open convention and I end up being the nominee, I know that Mitt would then support me as Rick Santorum would. Or if Santorum became the nominee, we'd support him."
It is not new information, but it certainly explains what it is Gingrich is holding on to at this point in the race– he no longer bothers to pretend winning by delegate count is possible, and he thinks a convention full of longtime Republican operatives is a climate hospitable to his nomination. In short, Gingrich is keeping his promise to go all the way to Tampa, and has said little about what that would mean in terms of finances.
Have a tip we should know? tips@mediaite.com