GLAAD Slams Fox News Hosts For Attending Its Events Due To Network's 'Biased' Coverage
GLAAD Slams Fox Hosts For Attending Its Events Due To Network's 'Biased' Coverage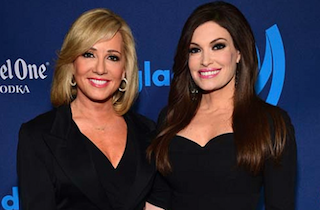 Fox News staffers evidently are not welcome at GLAAD events. After the two of the network's anchors, Kimberly Guilfoyle and Jamie Colby, attended the gay rights group's recent media awards ceremony, GLAAD issued a statement essentially deeming them not welcome — due to Fox News' "biased and misinformed" coverage of LGBT issues.
The pair attended the ceremony, which celebrates "outstanding representations" of the LGBT community, New York City on March 16, according to Media Matters. GLAAD Vice President of Communications Rich Ferraro issued the following statement about their attendance:
If Kimberly and Jamie expect to attend future GLAAD events, they will first need to sit down with us to discuss Fox News' embarrassing, biased and misinformed coverage of LGBT issues. The invitation is open. Fox News's track record on LGBT issues is abysmal, and it makes no sense to me why any LGBT people or allies would want to be a part of that.
In essence, Guilfoyle and Colby have an open invitation to talk, but unwanted at their events… due to issues with coverage on the network. While one would think the organization would be welcoming to those who support them, it appears their inclusion stops a bit short of that.
It's not the first time, however, that Guilfoyle and Colby have attended such events — and Guilfoyle is actually listed among the "NY Host Committee" on the website for this year's GLAAD awards. There are issues with Fox News coverage that gay rights activists could point to, but this isn't picking the right fight.
UPDATE: TVNewser has obtained an email from GLAAD director of creative development Marc Honaker to an unnamed Fox staffer. In the letter, he urges Fox to get Ailes to buy a table for the network: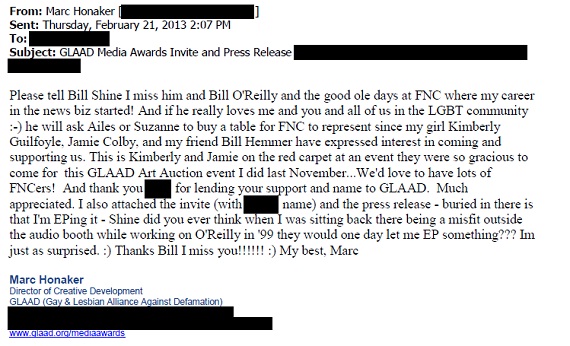 Have a tip we should know? tips@mediaite.com