Glenn Beck Attacks Obama For Working With Anna Wintour: The 'Devil' Part Of The Devil Wears Prada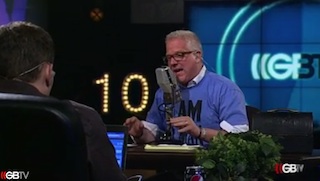 President Obama is getting set for a big, celebrity-filled fundraiser, and you know what that means; time for Obama's detractors to attack all the celebrities! That's always fun…especially if you try to forget that Mitt Romney's doing the exact same thing. Anyway, The Daily Caller started things off by giving a thoughtful and well-reasoned critique of Sarah Jessica Parker's nose. Over on the radio, Glenn Beck went after the other woman spearheading the fundraiser, Anna Wintour. Fortunately, his comments were a quite a bit more mature than The Daily Caller's.
RELATED: Daily Caller Relentlessly Mocks Sarah Jessica Parker's Appearance For No Reason (Except She Supports Obama)
Beck pointed out that it's kind of tough for President Obama to pretend that he's for the "little guy" when he's palling around with a woman who literally had a book and movie inspired by her entitled The Devil Wears Prada. Beck also mocked Wintour's upper class accent in regards to Obama's "for the people" approach, exclaiming that she couldn't even pronounce the First Lady's name properly.
Beck also made the tough to argue with point that it wasn't wonderful timing for Wintour's video to come out the same day as the latest job numbers which were, y'know, less than stellar.
While one could certainly debate Beck's claims that The Devil Wears Prada is completely "true to life," following that Daily Caller thing, this comes off like the highest form of political discourse.
Watch the clip from GBTV below:
(h/t Huffington Post)
Have a tip we should know? tips@mediaite.com