'Go Eff Yourself': Ernie Els Fires Back at Critics Upset That He Golfed With Trump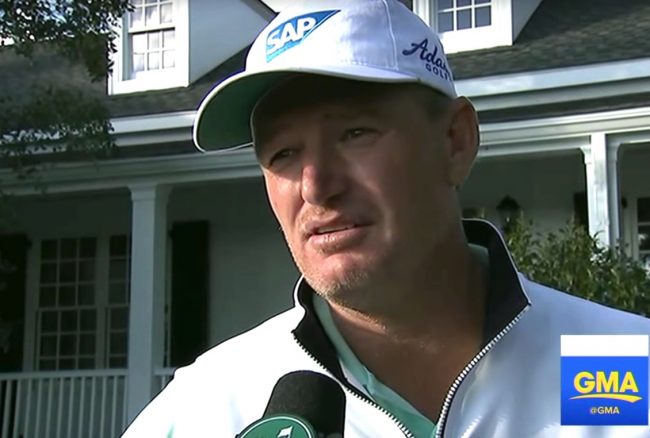 Ernie Els has one message for people who are upset that the golfing great played a round this past weekend with President Donald Trump:
"Go eff yourself."
Els, the two-time U.S. Open champion, was invited last minute to join Trump and Japanese Prime Minister Shinzo Abe at Trump National Golf Club in Jupiter, Florida Saturday after receiving a call late Friday from club director David Trout, who rounded out the foursome through eighteen holes. It was an offer that the South African-born golfer could not resist, nor turn down.
"I had to pinch myself all the time," Els said Tuesday of his experience this past weekend. "It was almost surreal."
But not everyone was as excited about the prospect of the 47-year-old — nicknamed "The Big Easy" — hitting the links with the Commander in Chief; Els recounted to reporters yesterday that he has his fair share of detractors. He said, "A lot of my own friends were not for him… They kind of needled me a little bit, saying I was a suck up. I just said, 'Go eff yourself. I played with the president and you haven't.' You can't please everybody."
Els told reporters that he has casually known Trump for two decades, and that the president has a pretty impressive golf game to boot. "President Trump is a golfer," he said. "He swings the golf club properly, hits iron shots properly. He's a proper golfer. The Japanese PM plays a different kind of game. He's more of a little clipper. He flicks the ball a little bit."
And Els was clearly not the only one who enjoyed the outing; POTUS himself took to Twitter to praise the round that day:
Played golf today with Prime Minister Abe of Japan and @TheBig_Easy, Ernie Els, and had a great time. Japan is very well represented!

— Donald J. Trump (@realDonaldTrump) February 11, 2017
Brian Costa of the Wall Street Journal explained how the scoring went down for the foursome in Florida Saturday:
Since the round was played out of the view of reporters, Els became one of the few eyewitnesses to one of the most significant early diplomatic engagements of Trump's presidency. He said he rode in a cart with Trout while Trump and Abe rode in a cart together, with the two speaking to each other through an interpreter.

The competition was not between the two heads of state but rather between Els and the other three. In the match play format, each hole was decided between Els's score and the lowest score between the other three. Els said the final result was a tie.
"It was just golf and a good time," Els continued further, noting that politics was not a part of the discussion. He further told reporters that had President Barack Obama ever asked the golfing champ to play, Els would have gladly accepted the invitation. "It's the respect I have for this country that has given me so much," he said.
At least Els avoided a repeat of his disastrous Masters performance.
Have a tip we should know? tips@mediaite.com