GOP Senator: Okay, Maybe We Shouldn't Have Addressed the Letter Specifically to Iran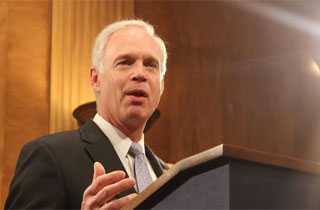 One of the GOP senators who signed onto the controversial Iran letter has expressed some regrets about the letter, which threatened to reverse any nuclear deal the Obama administration struck with the Islamic Republic, though he was still firm about the letter's intent.
"I suppose the only regret is who it's addressed to," Sen. Ron Johnson (R-WI) said, according to Bloomberg. "But the content of the letter, the fact that it was an open letter, none whatsoever."
Sen. Johnson's remarks appeared in the wake of GOP backpedalling, with many Senators admittingthat the letter may have been a bad idea, and Sen. John McCain saying earlier that a snowstorm made them sign it.
An open letter from the GOP Senate published in an outlet like, say, the New York Times would have drawn the attention they wanted. By addressing it directly to Iranian leaders, however, the letter appears to directly undermine US foreign policy — and, as numerous people have pointed out, could be a violation of the Logan Act.
However, Johnson does not appear to be revoking his signature or backing down from his belief that Congress should approve any deal: "This is such an important deal, it's a deal that rises to the level of a treaty that really should be evaluated and judged by the American people through their representatives," he said. "That treaty should come to Congress for an up-or-down vote."
Ayatollah Khamenei addressed the letter today, calling it "a sign of a decline in political ethics and the destruction of the American establishment from within.".
[Bloomberg]
[Image via Ron Johnson/Facebook]
—
>> Follow Tina Nguyen (@Tina_Nguyen) on Twitter
Have a tip we should know? tips@mediaite.com